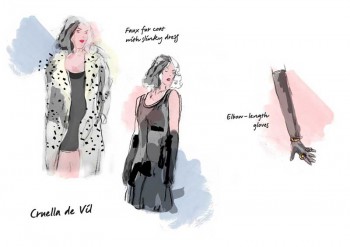 LONDON, Oct 30, 2012/ — You've been good all year and now it's time to let your wicked side out… and look devilishly good while you're at it!
You don't have to be scary this Halloween; the best outfit inspiration comes from some of the most stylish – and sexy – characters in history, so why not look even hotter than usual by taking inspiration from some of these bewitching characters? And the best thing about it, you can Simply Be!
Cruella de Vil
Greet the witching hour with a glint of pure glamour-loving evil in your eyes as Cruella de Vil.
You'll need the biggest fur coat you can get your mitts on – faux fur, obviously – and a slinky figure-hugging black dress.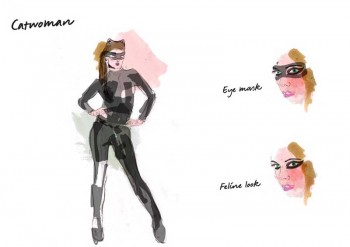 Faux fur is in right now too, so it'll be a wardrobe investment not a one-night-wonder! She may be a tyrant but Ms de Vil knows how to get glam, so reach for the elbow-length gloves and statement rings to wear on top.
Let's face it; the most recognisable thing about this puppy-snatching meanie is her two-toned hair. You don't have to reach for the dye – are you mad?! – just get some spray-in colour or hotfoot it along to the wig shop.
If you can't find the perfect monochrome tresses, why not cut a black and white wig in half then sew them together?
When it comes to makeup, thick dark brows with a suitably evil high arch are pretty much all you'll need, but feel free to slick on a coat of red lippie if you want to get people wondering why they never realised Cruella was sexy before!
Cat Woman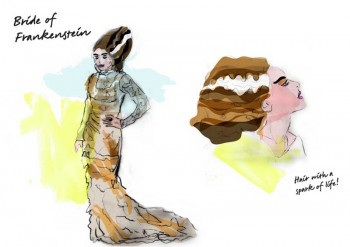 You don't have to be stick-thin to rock a skin-tight look; in fact, womanly curves just make this outfit a million times better!
Black leggings and a matching polo neck jumper are perfect, then just pop on some cat ears or make your own with a headband and felt triangles.
To work the mysterious look, create an eyemask from a piece of wide ribbon with large eyeholes.
For that feline allure, define your eyes with liquid eyeliner and wing it out at the edges – meow!
Bride of Frankenstein
Being the love-interest of a series of patched-together body parts may not be a particularly glamorous pastime, but the bride of Frankenstein had her charms.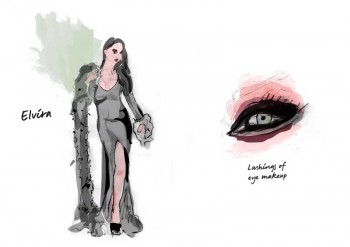 Work her hauntingly beautiful look with an ethereal white dress and bandages wrapped around your arms. Hair should be swept up with a hint of curl or crimp to reference that spark of life you've been ignited with – at last, frizz is acceptable!
Go as dark as you dare with your lipstick and eye makeup, and forgo the blusher or bronzer – there's only a mad scientist between you and the grave, remember!
Elvira
The Mistress of the Dark is possibly one of the sexiest characters you could channel this Halloween, and it couldn't be easier.
Grab yourself a long black skirt – thigh-high split optional – and team with a low cut top to show off those curves. Make sure you go for a top with long sleeves so you can attach some pieces of torn black material to give the jagged look Elvira sports.
Good news girls: semi-opaque tights are a key feature of this look, so up the wow-factor with some body-shaping beauties.
You'll need lashings of eye makeup for this one. Use liquid liner to create a winged shape in both the inner and outer corners of the eye. Use blue and purple eyeshadows on the upper eyelid and socket to create Elvira's multitonal style and get the wide-eyed look by using white eyeliner pencil on the inner corners of your eyes.
Use dark maroon-coloured blusher in a thick line underneath your cheekbones to define them in a way that'll slim your face right down but is only really acceptable for fancy dress – boo!
Next comes the final flourish – deep red lipstick for a darkly seductive pout.
The White Witch of Narnia
If all you blonde-haired beauties out there often feel a bit underrepresented in the pure evil stakes, the White Witch is here to, erm, save the day.
To make her icy style your own just get your shimmering Christmas dress a little early! Team the cool-toned frock with a snowy white faux fur stole for queenly opulence then set to work twisting or plaiting your tresses to copy the White Witch's long dreadlocks without the long-term commitment.
Ok, so you might not be able to lay your hands on a crown made of icicles, and even if you could, who would want the associated brain freeze? So stick to a silver hair accessory and go as big and dramatic as you fancy.
Makeup should be used to create a pale, uniform look for the face. Use foundation and loose powder as a base, but go over the eyebrows and eyelids, too. Lips should be as pale as possible, so get hold of a peachy lippie. Now all that's left is to practice those bone-chilling gazes…we've got goosebumps already!