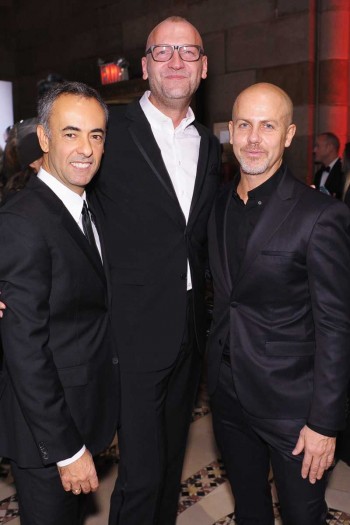 NEW YORK, Nov 6, 2012/ — It's still early on Election Day to know who the winner is, but last night at the 15th annual Accessories Council Excellence (ACE) Awards, Calvin Klein Collection proved to be the big winner with Francisco Costa (Women's Creative Director), Italo Zucchelli (Men's Creative Director) and Ulrich Grimm (Men's & Women's Shoes & Accessories Creative Director) receiving the Designer of the Year Award.
The award was presented to the brand's creative directors by actress Julianne Moore, who was wardrobed in Calvin Klein Collection. In addition to Ms. Moore, Calvin Klein Collection wardrobed actress Olivia Wilde, who was also a presenter, and New York Giants' Victor Cruz for the evening.
The women's looks were designed by Mr. Costa and Mr. Cruz's look was designed by Mr. Zucchelli.
Calvin Klein Collection is known around the world for its modern, sophisticated and timeless designs.
The brand's women's and men's ready-to-wear collections, designed by Mr. Costa and Mr. Zucchelli respectively, set the tone and direction for the overall brand and its complementing shoes and accessories, overseen by Mr. Grimm.
This marked the first time the Designer of the Year Award was presented to three designers from one brand.