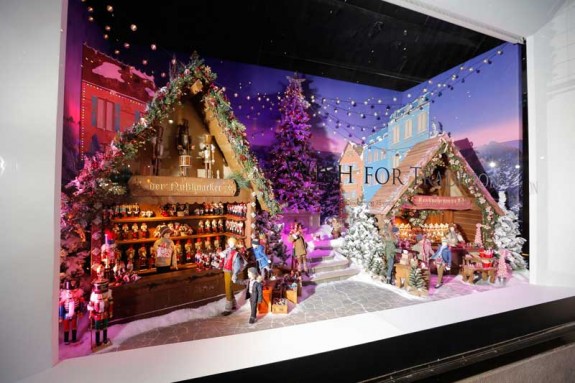 NEW YORK, Nov 14, 2012/ — With Thanksgiving just around the corner, the store windows are being spruced up all over Fifth Avenue and Lord & Taylor is one of the first to unveil its 2013 Christmas windows.
Yesterday, with performances by Megan Hilty, star of NBC's Smash and the Young People's Chorus of New York City, Lord & Taylor presented its 75th annual holiday windows to the delight of New Yorkers and visitors to the Big Apple.
"The annual holiday windows are our gift to New York City and I'm excited to share this special experience with our customers," said Bonnie Brooks, President of Hudson's Bay Company. "This year's windows celebrate special holiday traditions from around the world."
Every year since 1938, Lord & Taylor's holiday windows have delighted children and adults alike, transporting passersby to various holiday fantasies and reminiscing traditions. This year's holiday windows mark the 75th year of smiles, laughter, joy, and magic; celebrating the precious, worldwide tradition of spending holidays with those you love.
Sharing the story of Santa Claus on his day off, traveling around the world to discover global holiday traditions, the windows are inspired by picturesque locations during the holidays and the customs celebrated among friends and family worldwide.
The story begins in a modern day Santa's workshop, where the window features a rotating globe as a backdrop, and Santa planning his trip, surrounded by books full of children's wishes to be fulfilled. Traveling first to the Alps, this window includes snow-covered mountains, twinkling lights and a town marketplace selling traditional holiday figures such as miniature nutcrackers and animated gingerbread men.
The next stop on Santa's journey is New York City, featuring a snow-covered Central Park and all things classic to the holidays in the city. Stopping over in Europe, where Santa travels through a traditional clock tower, the next window features an intimate celebration with friends and family in a furnished loft with a rotating clock.
The final stop brings Santa to Asia, and this window is illustrated by vibrant red lanterns and a scenic snow-covered bridge, highlighting the tradition in which the lanterns are releases for good fortune and luck.