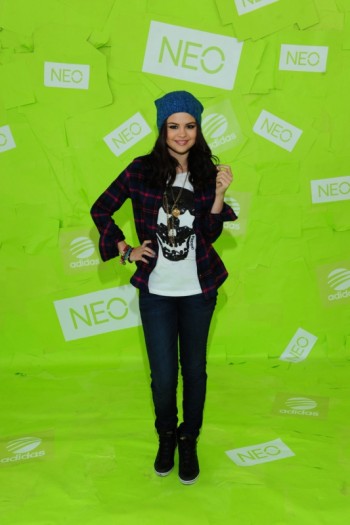 LOS ANGELES, Nov 20, 2012/ — Things might be unclear between Selena Gomez and Justine Bieber but there is one thing sure about the 20-year old star, she has been named the new style icon and designer for adidas NEO.
Los Angeles woke up to some colorful hijinks today with bright green paint, posters, and streamers spread across the city as actress, recording artist, and designer, Selena Gomez and a band of teens celebrated her new partnership with adidas NEO Label.
The mischievous and fun antics playfully announced that teen lifestyle brand; adidas NEO Label has appointed Selena Gomez as its new global style icon and guest designer through a three-year partnership until the end of 2015.
Selena will work with NEO to design and develop seasonal ranges that consumers and her fans will love, beginning Fall/Winter 2013. She will also be the face of four seasonal collections throughout the year and will appear in print, digital, retail, and outdoor campaigns to debut in February 2013. She will identify her favorite pieces, the first of many opportunities for Selena to communicate her personal style with fans.
Fans can watch Selena 'high jinxing' Los Angeles on www.facebook.com/adidasneolabel or http://www.youtube.com/watch?v=XwvX3j8q3ko , together with the chance to enter a competition to meet Selena Gomez at a NEO fashion event in New York in February 2013. Fans will be asked to watch Selena's high-jinks film and answer five questions about it over two weeks for a chance to win an all-expenses-paid trip for themselves and a friend.
adidas NEO Label is available in approximately 3,900 doors including Kohls, JC Penny, and Famous Footwear in the U.S. Launching in February 2013, the full line (apparel and footwear) will be available from adidas.com and the adidas NYC Flagship store on Broadway.