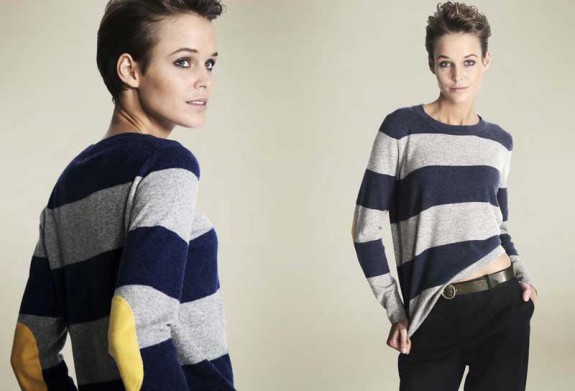 NICE, Franc, Jan 7, 2013/ — All aboard, the Transatlantic Star Line is setting sail. For Pre-Fall 2013, Façonnable takes a jaunt above deck of a turn-of-the-century cruise liner and channels the timeless style and impeccably easy elegance of the era.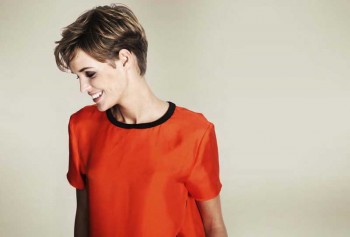 For women, a new relaxed attitude is given the Façonnable touch by reworking shipboard classics in a chic yet effortless and free spirited way.
Colors, from bright navy, heather grey, teak and cerulean are paired with cream, emerald green and bright yellow to lend a sporty air to the collection. Maritime details, graphic stripes, a new relaxed silhouette, lightweight sportswear and softly tailored separates are all combined to create a polished yet effortless collection that leads the way from hot weather dressing into the fall season.
Practical parkas are reworked using signature Façonnable details when paired with softly draped knitwear and easy trousers they look effortless and relaxed. Soft suede separates are updated once reinterpreted in the ultimate of relaxed elegance -the suede jogging suit.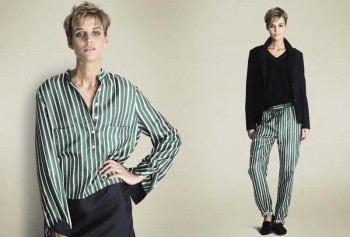 Pop over dresses, tailored shirts, easy skirts and slouchy jackets are all now presented with a light and nonchalant hand; when fabricated in softly washed cottons, lightweight corduroy and brushed wools -they all become very Façonnable yet with a feminine twist. The collection borrows from the men's and takes the best elements from the tailored tradition of the ship's crew.
Delving deeper into the collection, the design team crafted a new, colorful assortment of polo shirts, jersey Ts and an array of colorful sweaters. They can all be worn on their own, simply with a slouchy pant or layered under the softly constructed tailoring and outerwear. Color blocking is softened when paired with textured separates and is a study in effortless mix and match dressing.