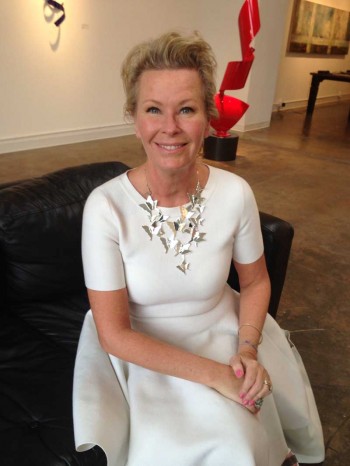 DALLAS, Mar 24, 2013 / — Nestled in the heart of the Dallas Art District is the Craighead Green Gallery, venue for the Efva Attling jewelry trunk show.
That the Gallery was located at Dragon St was serendipitous. Efva is Swedish and as most of us know, that Stieg Larson, author of "The Girl with a Dragon Tattoo", who is Swedish himself had set the famed novel in actual Swedish towns.
And for the coup de grace of the coincidences, Abba's "Dancing Queen" was playing on the radio as I was pulling up in the parking lot.
The triad, the most powerful number according to numerology fans; because we started with three coincidences, it was actually not surprising when Efva Attling mentioned that she had three very different careers before finally becoming a jewelry designer.
She was 11 years old when she made her first piece of jewelry as a class project, and by the age of sixteen, she was a pupil of one of Sweden's greatest silversmiths. But life decided to give her a detour.
Still in her teens, Efva was discovered by legendary model agent Eileen Ford, and a twelve year long modeling career began. She traveled the world, working in Paris, London, Milan and New York.
Before she hit the big 3-0, Efva retired from modeling and started a band called, "The X Models." Their biggest hit was in 1981 with "Two of us", with music and lyrics by Efva.
"After being a pop star, I thought I was done with being in the public eye," Efva said. "But, I got offered a job in television and thus became a TV personality."
"But, design is my true love," continued Efva. So in 1996, Efva went back to her origins – working with silver, gold and precious stones.
When asked where she gets her inspiration for her work, Efva readily explained that to her jewelry is another dimension of playing around with words and expression.
Citing the butterfly necklace as her example, Efva said that it is about love. "Butterflies are like love. If you hold on to it too tight, it dies. Love like butterflies should be free." And that's the reason why the necklace depicts butterflies in flight.
So, when Efva said that her design philosophy revolves around "Beauty with a Thought", it actually made a lot of sense.
Today, Efva is the leading jewelry designer in Scandinavia and one of Sweden's most sought-after designers. Her jewelry has already become the preference of stars like Meryl Streep, Madonna, Uma Thurman and Grace Jones.
[MARI DAVIS]
Photos by Mari Davis