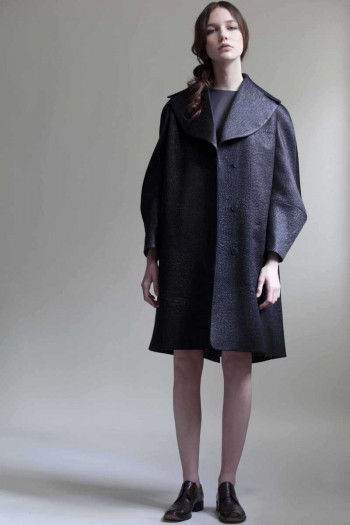 PARIS, Mar 15, 2013/ — Gianfranco Scotti continues to evolve by combining different construction techniques for its Fall/Winter 2013-2014 collection.
Haute Couture, Ready-to-Wear and Savile Row construction are all utilized to create a collection that is young, modern and sophisticated. It allows for innovation in a capsule collection that marks the brand's fifth collection.
A play in silhouette is evident, mixing volumes and textures, creating a rich palette of pieces that are delicately crafted and appear as if defying gravity. It is within the brand's DNA to create beautifully engineered pieces without the heaviness that is sometimes portrayed in "highly constructed" garments.
The process starts with fabric. Savile Row fabrics such as Super 120s and wool cashmere twills are mixed with Haute Couture fabrics such as satin cuir and silk taffeta.
Other fabrics such as lacquered wool silk fabric and silk wool twill allow for lightweight garments that are both warm and comfortable, perfect for winter.
Innovative fabrics such as a graphic herringbone and all-over jacquard fabrics are created using recycled plastic, and although made out of synthetic fibers, they breathe and feel comfortable against the skin.
GIANFRANCO SCOTTI is currently available at :
BLAKE Chicago
JOAN SHEPP Philadelphia
NANCY St. Simons Island
RELISH Washington, DC
SAVANNAH Santa Monica
SUSAN San Francisco
WEINSTEIN'S New Orleans