DALLAS, April 30, 2013/ FW/ — Entitled 'Introducing the rewardStyle iPhone app', rewardStyle, the invitation-only web tool that helps top tier style publishers find and monetize their content, just recently launched its first app for the iPhone. The rewardStyle iPhone app is optimized for the iPhone 5, but is also compatible with the iPhone 3GS, iPhone 4, iPhone 4S, iPhone 5, iPod touch (3rd generation), iPod touch (4th generation), iPod touch (5th generation) and the iPad. This content monetizing app is free for download, but does require iOS 6.0 or later.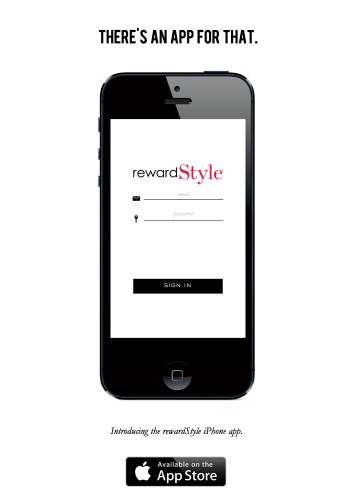 This rewardStyle iPhone app will allow 
people to discover and learn about millions 
of products from
 one location with 
just one login. rewardStyle also helps to enrich its users'
experience with
 relevant shopping 
links added 
to the blogger's posts. This company also helps a blogger earn money because when the blogger's readers click on a 
link on their blog page and make a purchase,
 then the blogger will earn a commission
.
rewardStyle also offers useful tools and widgets to help grow and dramatically increase
a a blog's earning potential. These advantageous widgets that rewardStyle offers includes the rS LINKNINJA tm, which is a simple bookmarking button that allows a blogger to pin tweet, favorite, obsess and link products directly from an advertiser's site. Another advantageous rewardStyle widget, is the rS Boutique, which allows a blogger's readers to shop their favorite products in real time without ever leaving a blogger's site. Besides shopping the products, readers are also able to socialize with the rS Boutique tool using the "Pin It" and "Tweet It" buttons while keeping a blogger's rewardStyle links intact.
The Lookbook widget is another great monetizing tool that rewardStyle offers to its bloggers. Similar to a designer's lookbook, the rS Lookbook allows a blogger to put rewardStyle products into a scrollable set of images for a blogpost, and each rS Lookbook image is equipped with a rewardStyle link, so it is shoppable.
With proven
 strategies and support 
from the company's team of
 web consultants, the rewardStyle iPhone app is an incredibly useful monetizing app that rewards fashion, beauty and lifestyle bloggers for linking and sharing style products that they love with their readers.
[DARBY RADCLIFF] Photo Courtesy of rewardStyle