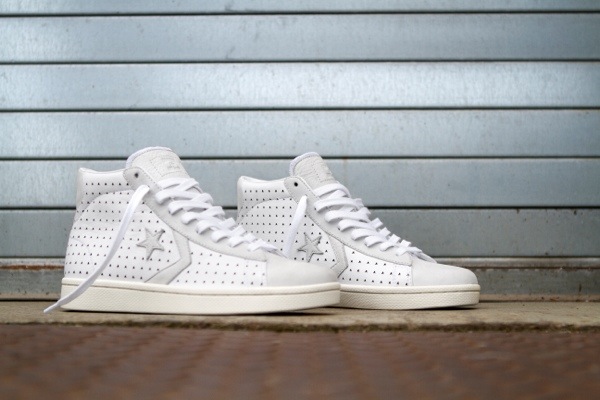 NEW YORK, JUNE 12, 2013 /FW/ – This Friday, June 14, Converse and Ace Hotel will unveil a third style in their partnership with the limited-edition Converse x Ace Hotel Pro Leather. As their third collaboration but first with the Pro Leather, the new high-top Converse x Ace Hotel Pro Leather captures the zeitgeist of modern street wear with premium materials and an Ace Hotel "A" all-over pattern.
"Converse is an iconic brand that transcends age and geography — a true staple for independent spirits of all kinds" said Ace Hotel co-founder, Alex Calderwood.
As Ace Hotel tries to reinvent hospitality to make something fresh, energized and human, their Converse x Ace Hotel Pro Leather embraces the same spirit. Carrying a clean and white minimalist aesthetic, the Converse x Ace Hotel Pro Leather demonstrates superior sneaker craftsmanship presented and thoughtful design.
Including white and gray color contrasting, a soft suede toecap and suede Star Chevron logo, a perforated Converse insole, those details echoed the hotel's affinty for the soulful and handmade culture.
The Converse x Ace Hotel Pro Leather will be available at Ace Hotel New York, Portland, Palm Springs and Seattle and at shop.acehotel.com.