NEW YORK, June 12, 2013/ FW/ — Entitled 'Fashion Meets Art with the Oliver Gal Artist Co.', Oliver Gal is a collective of artists led by the talented sisters, Lola Sánchez & Ana Gal. Their art collections are inspired by the lifestyle and art scene of their living quarters in Miami, and photography from their travels around the world in Spain, Italy, St. Lucia, China, Israel and Africa. Oliver Gal Art Co. pieces are handcrafted with airy images, pop culture themes, and striking layers of vibrant colors that instantly brighten and liven a home's interior.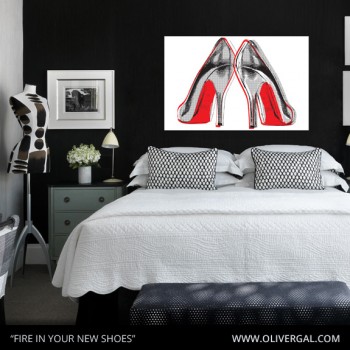 Fashion Windows catches up with the artists, Lola Sánchez & Ana Gal to learn more about the Oliver Gal Artist Co.
Fashion Windows: How did the Oliver Gal Co. begin and how many artists are involved?
The Oliver Gal Artist Co. began concocting in the minds of sisters Ana Gal and Lola Sanchez long before it became a reality. As Ana words it: "We like to say it always existed, since our art belongs to all styles and all eras, it is contemporary as it is timeless… scilicet eternal". However, we've been open to the public since July 2012.
Ana and Lola always thought of bringing haute-art to the people. Art that evolves in a fashion-like motion, while keeping the highest quality materials and creations.
The collective houses several artists, creating a convergence of different art visions that evolves with each project.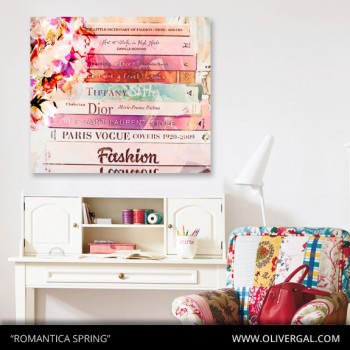 FW: What is the inspiration behind the pieces that the Oliver Gal Co. creates?
"Life. Art should reflect who you are, what you look up to and where you see yourself. While complementing the space you want to unwind in, or create at. If your closet reveals you as a fashionista, your walls should sing Haute-Couture," said Lola Sanchez.
FW: What materials are used to make the art pieces?
Anything can be found in an Oliver Gal Artist Co. piece. The artwork is crafted with anything from analog photography (processed in house), watercolors, pastels… and even lipstick! -then reproducted on limited edition giclée prints or premium hand-framed paper. We create our own frames or we partner with specialty frame houses to enhance our pieces in a completely unique way.
FW: What pieces are top sellers for the Oliver Gal Co.?
Our collections range from fashion, to pop culture everyday things and abstract painting. There is no golden rule. The Oliver Gal Artist Co. creates art for every taste and style. Thus, you are the sole decision maker on what is in and what is out… and the collective believes in art that evolves like fashion does, so the top sellers change every day, with every new Oliver Gal collector.
FW: What are the price points of the art pieces?
We have several outlets for our pieces, they start at $100 or less for smaller reproductions… going to the thousands for originals, limited editions or custom pieces.
FW: Where can people purchase Oliver Gal Co. art pieces?
We just launched our website, where anyone can place their order and receive their hand-signed, varnished and framed piece.
You can visit it here: www.olivergal.com. If you want to become a proud Oliver Gal collector without breaking the bank, we also have certain collections available for sale. They are authentic, but on sale for a limited time. It´s a way for us to make sure that everyone can dress their walls in the haute-couture of art."
FW: What has been a special moment for the Oliver Gal Co.?
"It might sound cliché to say every moment is special. However, in our case, this is uncommonly true. Every day we find new followers and proud "Oliver Gal Collectors" (this is how we call our artwork owners) and they are proud and happy to share with the world the pieces that they own via Instagram, Pinterest, Facebook, and Twitter. It is a project that truly awakens passion in our customers and this makes every piece we make a before-and-after moment in our company and in our lives," said Lola.
[DARBY RADCLIFF]
 Photos Courtesy of Oliver Gal Artist Co.