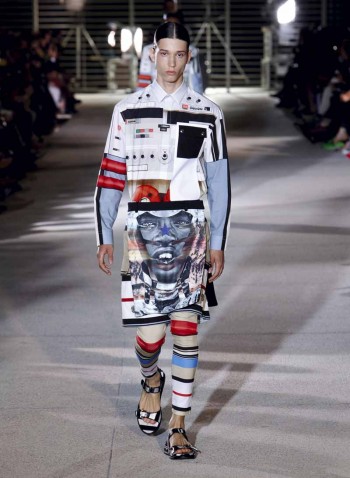 PARIS, Jun 28, 2013/ — With Riccardo Tisci embarking a journey from America to Africa in his Givenchy Homme Spring/Summer 2014 collection, it made me wonder once again if designers have prescience. The timing was perfect. President Obama was visiting Africa and still is in Africa when this collection was unveiled.
And though I would love to be able to say that the American president is hip enough to wear the colorful silhouettes that exude a sporty elegance, it would be hard pressed to convince him to wear the L.A. skaters looks mashed with nerds obsessed with vintage 1970s computers style.
Still, there is logic in this madness. A definitive California influence from the Southland to Silicon Valley is juxtaposed with African ethnography. The collection is is about mixing colors, shapes, designs and prints.
Bright and light computerized motifs give a dynamic and graphic take to prints. They are merged with an influence of Masaï and Zulu bold iconography, layered together with the energy of sportswear.
Every kind of stripe animates the garments while targets and go-carts add further visual effects. Placed or worked in patchwork, each print reveals elaborate compositions. Intricate fronted shirts and athletic t-shirts with cut-outs also inject geometry.