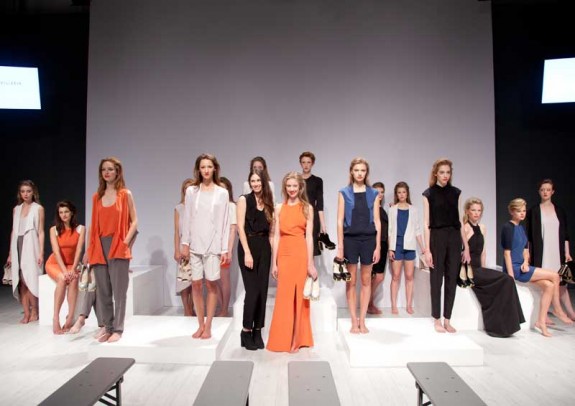 BERLIN, Jul 13, 2013/ — Entitled "Relief," Isabell de Hillerin presented her Spring /Summer 2014 collection on July 4th at Mercedes-Benz Fashion Week Berlin.
A combination of light summery fabrics and embroidery that create a feeling of elegance and femininity, the collection reflects the atmosphere after a summer thunderstorm, when the air is filled with clarity and pureness and all the tensions naturally dissolve.
The color palette comprised of shades of beige, grey and black punctuated by coral and blue hues highlight and capture this elusive moment.
Excitement and tension lie in the thick summer air, as in the distance, the roar of the race is capturing. Heavy, dark clouds elegantly rumble through the dimming skies. The atmosphere is charged with the unmistakable scent of change.
While the familiar orchestra of pounding hooves on the awaiting soil remains fast and consistent, the wind announces its arrival with powerful gusts. The clouds release the eager raindrops in their downward journey, honoring this prestigious moment with clarity and pureness.
The label 'isabell de hillerin' stands for elegance, structured cuts and details which remind of an old tradition. In recent years the ancient fabrics industry in Romania and Moldova has been driven to near extinction.
To strengthen this traditional artisan industry, her label works with local manufacturers to support the production of handmade materials. Her aim is to push these highly skilled craftsmen by publicizing and utilizing their cultural skills in a way that hasn't been done before.
www.isabelldehillerin.com