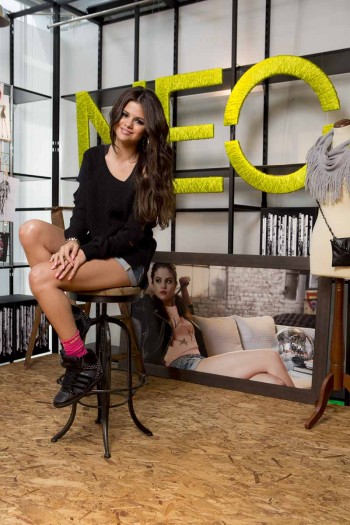 DALLAS, Jul 10, 2013/ — Yesterday, at the flagship adidas NEO store on Tauentzienstraße in Berlin, Germany, teen heartthrob Selena Gomez launched her first collection for adidas Neo label.
Aimed to teenage girls, the 53-piece collection was inspired by Selena's love of music and feature iconic styling from the world of rock and roll.
Selena's favorite pieces include the black, studded super wedge shoes with hidden height, and the tough but feminine denim vest with an embellished collar, perfect for a lunch date with friends.
Commenting on the collection, Selena Gomez said, "My collection has a 'rock chic' theme and it's confident, rebellious and fun. It's also a little bit darker and I think it encourages girls to put their own stamp on their individuality and show confidence in what they are wearing."
Models at the launch showed off Selena's favourite pieces from the collection to the world's media, dressed in a variety of looks that are comfortable yet stylish, with a rock and roll edgy side.
The range has been designed with an element of fun in mind and each piece can be worn with different styles to change the mood and feel of any outfit.
To view Selena's interactive look book, visit www.adidas.com/selenagomez