MIAMI, August 2, 2013/ FW/ — Entitled 'Luli Fama Swim 2014 Collection,' designers Lourdes Hanimian and brother-in-law Augusto Hanimian presented their captivating Luli Fama Swimwear 2014 collection during Mercedes-Benz Fashion Week Swim 2014 at The Raleigh Hotel.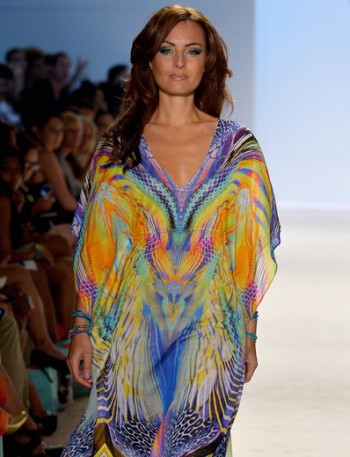 Every Luli Fama collection reflects a new thought process and design concept. Luli and Augusto are inspired by a variety of factors, including Luli's Cuban descent and Miami upbringing, as well as inspired by Latin influences, the cosmopolitan culture of Miami, contemporary shapes, intense colors, and influenced by a fusion of innocence and seductiveness.
The inspiration behind the Luli Fama 2014 collection was influenced by the engaging rhythms of the Islands and the electric nightlife of South Beach, as well as inspired by the blues and greens of the ocean, the glimmering gold of the night stars and an exotic locale's lush surroundings.
The Luli Fama Swimwear 2014 collection consisted of a colorful assortment of exclusive pieces, including bikini separates, sexy one-piece suits, cover-ups and resort wear that were all made from luxurious fabrics and enhanced with exceptional details tailored to accentuate a woman's figure.
The collection was also fused with breathtaking, vibrant prints ranging from ceramic prints, dancing florals, tie dye, animal prints and crochet patterns showcased in bold colors to express the flare of island culture.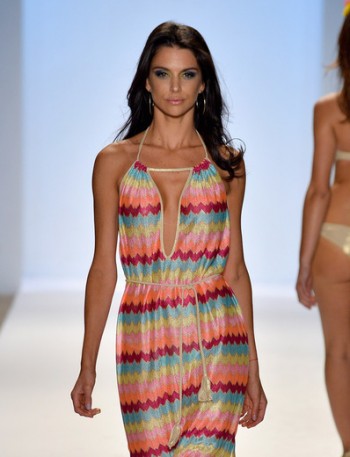 Originality is a fundamental component, as Luli Fama understands the importance of a target customer and abides by her personal philosophy, "You can't be everything to everybody. You have to have a niche and stay true to your consumer by providing a look in the highest quality possible."
The entire Luli Fama Swimwear 2014 collection can be sold in separates, and since the solids come from the colors in the prints, everything can mix and match creating endless possibilities.
For More Information about Luli Fama, Check Out:
@LuliFama
[DARBY RADCLIFF]
 Photo Credit: Getty Images