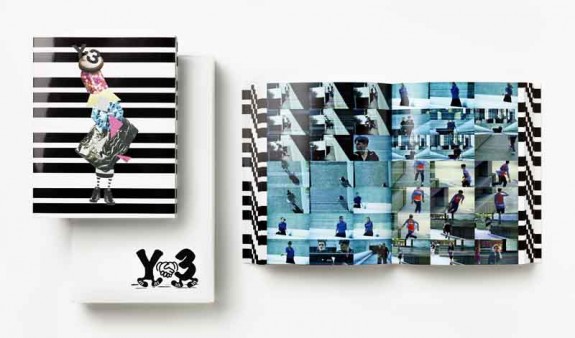 NEW YORK, Nov 12, 2013/ — With only 2000 copies printed, 10 YEARS OF Y-3 immediately became a collector's item the moment it came out of the presses. Add the fact that you cannot buy it at Amazon or Barnes & Noble; it makes it a very covetable item to fashionistas and book collectors alike.
So, how can you snag a copy of 10 YEARS OF Y-3? You have to be on the very exclusive list of Y-3 brand ambassadors and collaborators who will be gifted this very special tome throughout the 2013 holiday season.
So, how will mere mortals like us be able to read the book? The hard copy book will be on view at all freestanding international Y-3 boutiques and a digital portal on Y-3.com will be devoted to celebrating its contents.
Just for a sneak peek: 10 YEARS OF Y-3 takes a tour through ten trailblazing years of Y-3, from its epic fashion shows and hyper-kinetic ad campaigns to the breakthrough clothing that fused style and sport with Yohji Yamamoto's darkly poetic signature aesthetic.
10 YEARS OF Y-3 presents the first decade of the innovative sportswear label not in chronological format but rather as a beautifully chaotic mix of iconic images and reflective words from the innovators who shaped the brand's visual language, including Yamamoto himself.
Each spread of the book represents a distinct chapter in the evolution of Y-3, as seen through backstage and runway photography, studio sketches, design prototypes, store imagery, and atmospheric visuals that distill and capture the brand's essence.
Designed and art directed by PL Studio, the creative consultancy founded by Stefan Pietsch and Georgina Lim, the book resembles a carefully curated and uniquely personal album of brand inspiration. "Sifting through the archives of Y-3 has taken us on a journey through all imaginable sartorial interpretations of sportswear," said Pietsch and Lim.
"Y-3 forged new paths for others to follow. It's a creative partnership that has defined a new genre in fashion and inspired those who have been fortunate enough to work with the brand."
See it here: www.Y-3.com/BOOK