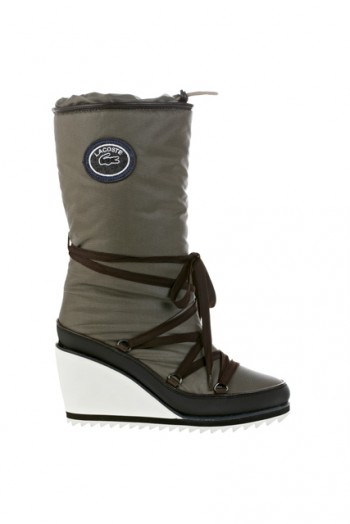 MILAN, Nov 26, 2013/ — If it's not snowing yet where you are, don't blink because there will be flurries before you know it. With cold weather just around the corner, keeping your feet warm becomes high priority.
Bundling up does not just mean a warm coat and sweater. It also means warm, waterproofed, comfortable shoes. And in this age wherein even the sidewalk is a catwalk, fashion and style are also required.
This winter, Lacoste reinterprets the boots with Auibina, a padded wedge model that exudes glamour even in the most extreme weather conditions!
Made of padded fabric to ensure optimum thermal insulation, AUBINA features an elegant cross lacing and a wedge rubber black or white to ensure maximum tightness even on the most slippery surfaces.
Available in blue, khaki wedge burgundy and white contrast, or in the elegant total black version, AUBINA is the ideal model for all the walks in the snow!
Price: € 241.00