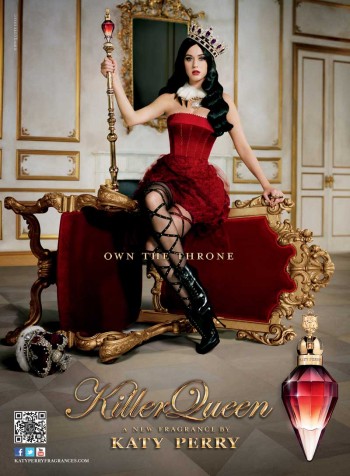 NEW YORK, Nov 3, 2013/ — Just in time for the holiday season, Katy Perry fans can bring home something from their idol. The songstress has launched "Killer Queen by Katy Perry", a new, strikingly gorgeous fragrance that captures Katy Perry's rebellious spirit, throwing convention to the wind.
"When I was creating Killer Queen, I was really inspired by the idea of a strong, confident woman in power and that is exactly what I hoped to put into this fragrance, something that brings out the power inside of you", says Katy.
Playful and daring, Katy Perry's unbridled artistic vision bends the rules and breaks the mold with a vivaciously original spark.
The Fragrance
Created by Laurent Le Guernec of IFF, Killer Queen is an addictive fragrance that bewitches, indulges and demands to be noticed.
"The Red Velvet Flower inspired this creation beginning with the richness of the burgundy red, the velvety feel reminiscent of a royal cape and its deep textured floral scent," says Laurent Le Guernec.
Top Notes: Wild Berry, Dark Plum, Bergamot
Middle Notes: Red Velvet Flower, Natural Jasmine Sambac, Rainbow Plumeria
Base Notes: Cashmeran, Natural Patchouli Heart, Liquid Praline
Perfumer: Laurent Le Guernec, IFF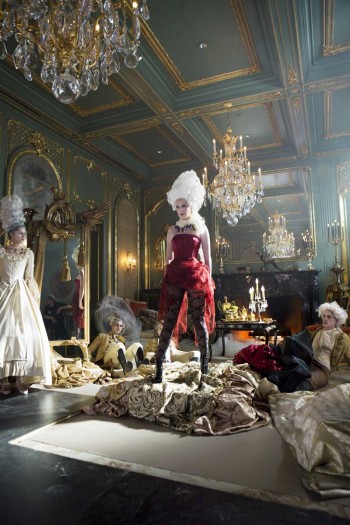 The Bottle
Inspired by a queen's scepter, the distinct jewel-shaped bottle in shades of royal red and gold portrays sexy sophistication and lawless luxury. The faceted bottle rests languorously on its side, like a loose, precious gem fit for a Queen. The regality of the bottle is enhanced with a rich gold crown showcasing a custom crest capturing Katy Perry's playful essence—regal cats, a music clef, hearts and dagger.
The Carton
The imperial red carton echoes the royalty of a Killer Queen with a tufted textured pattern reminiscent of a throne framed with a fanciful ermine border. Playful gold crowns add whimsy to the carton while the signature Katy Perry crest and ornate filigree logo add prominence and distinction.
The Collection*
Katy Perry Killer Queen Eau de Parfum 100 ml / 3.4 oz: $59
Katy Perry Killer Queen Eau de Parfum 50 ml / 1.7 oz: $49
Katy Perry Killer Queen Eau de Parfum 30 ml / 1 oz: $39
Katy Perry Killer Queen Royal Body Lotion 200 ml/ 6.7 oz: $25
*each to be sold at manufacturer's suggested retail price
The Advertising
Shot by top fashion photographer Tim Walker and visionary director Jonas Akerlund, the Killer Queen advertising campaign captures the duality within Katy Perry… extreme femininity and ultimate power with an irreverent wink. Illuminating her rebellious spirit, the campaign depicts Katy Perry as an empowered and headstrong Killer Queen who defies convention and takes the throne by storm!
"Artistic, creative and a consummate professional, Katy Perry has been an amazing partner to Coty," says Steve Mormoris, Coty Senior Vice President of Global Marketing. "Together with director Jonas Akerlund and photographer Tim Walker, Katy Perry helped us to create an incredible film and iconic visuals that will launch this fall when Killer Queen hits stores all over the world. We are thrilled to bring to consumers such an innovative campaign and fragrance."
Own the Throne!
Credits
Perfumer: Laurent Le Guernec, IFF
Packaging: Katy Perry in collaboration with Lutz Herrmann
Photographer: Tim Walker
Director: Jonas Akerlund
Advertising Agency: Laird & Partners
Makeup: Jake Bailey
Hair: Renato Campora
Stylist: Lori Goldstein