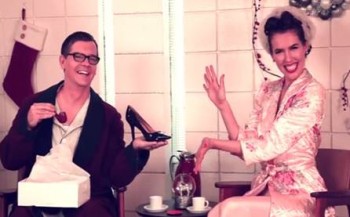 NEW YORK, Dec 17, 2013/ — With nearly half (49.9%) of holiday shoppers expected to finish their Christmas shopping online according to an NRF survey, Nine West is leveraging the power of social media to reach its target audience instead of using traditional online advertising.
Tapping YouTube stars Jack Vale and Brittani Louise Taylor whose combine subscribers is over 1.9 million, Nine West created "The Pump that Keeps on Giving", a two-minute 10-second video.
With 1950's retro theme that is reminiscent of "Leave It to Beaver", but with the tongue-in-cheek humor of the 2010s, the video tells the story of how a couple can use the Nine West pump in non-traditional ways proving that any woman can disguise a new pair of shoes as a gift for her husband – the pump has many "out of the box" household uses, making it the gift that truly keeps on giving!
The video is definitely fun to watch yet what makes it engaging is that viewers never lost sight of the classic Nine West Martina pump which unsurprisingly is the true protagonist in the story!