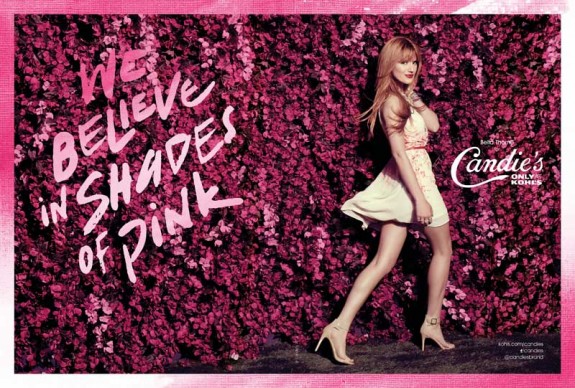 NEW YORK, Jan 17, 2013/ — Joining an impressive line-up of spokespersons, actress and musician Bella Thorne is Candie's new girl.
"When I received the call that I was going to be the next Candie's girl I literally screamed out loud 'YES!' because I was so excited," commented Bella Thorne. "The campaign is about being girly, feminine and having a confident outlook on life," Bella added.
Bella follows in the footsteps of previous spokeswomen including Britney Spears, Fergie, Lea Michele, Carly Rae Jepsen and others. She has skyrocketed to fame playing aspiring dancer Cece Jones on Disney Channel's series "Shake It Up!"
As Candie's spokesperson, Bella is headlining the brand's Spring 2014 campaign which will debut in March issues of fashion and lifestyle magazines such as Seventeen, People StyleWatch, Teen Vogue and Cosmopolitan, as well as online, outdoor and in Kohl's marketing vehicles.
Highlighting the campaign's motto, "Always look on the pink side of life," the photo shoot captured Bella cheerfully posing in front of numerous pink backgrounds including: in front of a flower wall, playfully on a pink dresser surrounded by kittens and happily walking with her dog, Kingston on set. Bella was so fond of one of her kitten co-stars, she adopted the kitten after the shoot.
Bella's partnership with Candie's will also include performances at exclusive Candie's and Kohl's events, personal appearances, and participation in social media programs all designed to directly connect with Candie's customer. Candie's is sold exclusively at Kohl's Department Stores nationwide and Kohls.com.
Bella will make several personal appearances and performances on behalf of the brand throughout the year, as well as host events for Candie's and Kohl's.