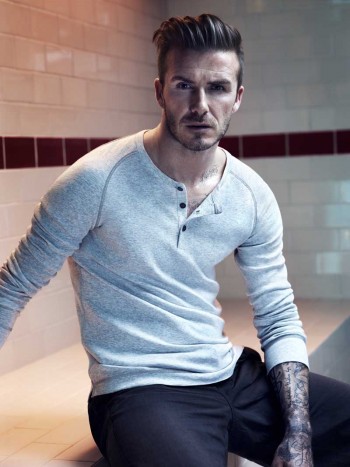 NEW YORK, Jan 22, 2014/ — H&M and David Beckham fans already knows that the David Beckham Bodywear will return to the Super Bowl.
What they did not know is that Beckham filmed two alternative versions of the action-packed spot, #Covered and #Uncovered, and consumers can vote on which one the world will see on Super Bowl Sunday by going to HM.com.
To celebrate Super Bowl XLVIII, the H&M Times Square store will be transformed into a "Fashion Meets Football" destination leading up to Super Bowl Sunday.
The store will feature an AstroTurf lounge with geometric AstroTurf designs, as well as a massive Jumbotron tallying votes for the #Covered and #Uncovered ads.
From Jan. 29 to Feb. 2, consumers are invited to visit the Times Square store and "Kick to Win" exciting prizes with H&M's "Digital Field Goal" competition.
Guests can choose special Avatars and kick a digital soccer ball or football into a field goal. Customers can also have their photos taken in customized apparel, as well as win scratch-off tickets that reveal H&M prizes based on their scores.
Fans can also enter to win "The Ultimate Big Game Giveaway," including two tickets to Super Bowl XLVIII, round-trip travel and three night stay in NYC, items fro m the David Beckham for H&M Collection, plus the opportunity to meet David Beckham in person.
Conumers can also walk the catwalk on the "Virtual Runway," which will be game-day ready with fun props including helmets, trophy, foam hands and footballs. Catwalk participants will be live-streamed onto the H&M Jumbotron screens outside of the H&M Times Square store.
Fans are also invited to visit the H&M Skybox to see the best view of Super Bowl Boulevard. While there, they can also vote on the new Super Bowl ad and enjoy the superb ambiance.
On Feb. 1, fans' dreams can come true when David Beckham visits the H&M Times Square store to meet the first 200 people in line!
H&M at Times Square
4 Times Square
New York, NY 10036