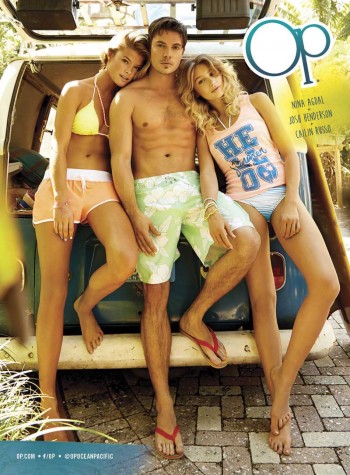 NEW YORK, Mar 12, 2014/ — Dallas' Josh Henderson shirtless! Sports Illustrated cover girl Nina Agdal and actress Cailin Russo in teeny tiny bikinis! Op's Spring/Summer 2014 campaign is just sizzling hot!
Entitled "Sunshine State of Mind," the Op Spring 2014 campaign redefines the term March Madness to fans of Henderson, Agdal and Russo.
On the heels of her Sports Illustrated Swimsuit Edition cover, Nina shows off her famous assets, splashing around on the beach with Josh and Cailin. Wearing Op swimsuits and apparel, the trio show off their toned bodies as they are photographed enjoying a beautiful day at the beach.
Josh commented, "It's pretty cool for me to be a part of this campaign – I'm a laid back, active guy and I just like to be comfortable and that's a lot like what this brand is."
Nina commented, "My favorite piece of the day was definitely my one piece crochet swimsuit, it was really fun and colorful." About Op she added, "Op was one of the first companies to take the surfing style and make it more fashionable. I love that they still keep it cool and California-like, but chic."
Shot on location in Miami by photographer Larry Bartholomew, the campaign has a laid-back, carefree feel, representing the brand's authentic, surf-inspired heritage.
Op fuses beach culture with fashion by combining the latest trends with its authentic, California surf-inspired heritage.
The national multi-media marketing campaign will debut in May issues of fashion, lifestyle and entertainment magazines, as well as outdoor and online at www.op.com.
Nina, Josh and Cailin are wearing the spring-summer Op collection of juniors and men's apparel and accessories in the campaign, exclusively available at Walmart in the United States and online at www.walmart.com
.