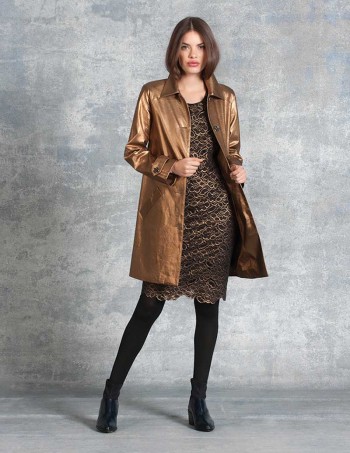 Staying true to the core aesthetic of the brand, for Fall 2014, S.I.L.K. creative director Michele Lee fashioned an easy to wear, sophisticated collection for chic women everywhere.
Featuring a gold & black floral brocade jewel neck coat, a bronze cropped vegan leather pant, delicate dark colored lace dresses with a peek-a-boo pop of color, and a festive velvet holiday black polka dots dress, this collection is classic and feminine with a touch of luxury.
What sways and moves to the contours of a woman's body? S.I.L.K., that's what.
As the name suggests, S.I.L.K. is a New York-based women's fashion brand comprised of silk and silk-derivative fabrics that fit into the modern woman's lifestyle.
With a touch of classic, and a focus on construction, S.I.L.K. is a chic collection that easily transitions from day to night—but never falls into the boring. Power prints, lively patterns and alluring textures all pop against our signature fabric, and define the wardrobe of the cosmopolitan woman in all her effortless elegance, femininity and sophistication. S.I.L.K. infuses style with luxury—key to our vision and design—just like our namesake.