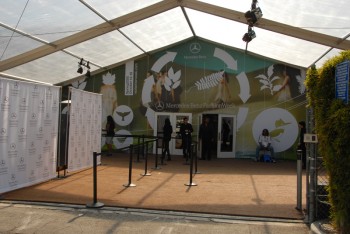 LOS ANGELES, Mar 12, 2014/ — Remember Smashbox Studios? Aside from being the legendry photography studio in the Los Angeles area, it was also the venue for Los Angeles Fashion Week (branded as Mercedes-Benz Fashion Week at Smashbox Studios) from 2003 until 2009, the year it ended.
For some time now, because it has been undergoing major renovation, Smashbox Studios has been under the fashionista radar. Today, the iconic Culver City facility became a major blip on the radar with the announcement that it will open its doors again in Summer 2014.
And in this new incarnation, Smashbox Studios continues to innovate by partnering with Industrial Color Brands, the leader in high-end creative production services to create the 'Studio of the Future'. And to achieve that goal, Smashbox Studios had partnered with with Steve Kalalian of Industrial Color Brands.
"It was imperative to align Smashbox Studios with a partner who appreciated the quality, collaboration and customer service which have been key to the Smashbox Studios DNA. Our partnership with Steve and Industrial Color Brands will allow us to give the creative community in Los Angeles the highest quality service and most advanced technology available," said Davis Factor, founder of Smashbox Studios and Smashbox Cosmetics.
Davis Factor, along with his brother Dean, great grandsons of Hollywood makeup legend Max Factor, founded Smashbox Studios in 1990. Since its inception, Smashbox Studios has hosted world-class photographers who produced iconic visuals for top magazines, music labels, entertainment companies and global brands.
In 1996, Smashbox launched Smashbox Cosmetics, a makeup line developed to meet the demanding needs of professional photo shoots.
For nearly 25 years, Smashbox Studios has been a leading force in the industry as the intersection of photography, fashion and celebrity culture with renowned events including Mercedes-Benz Fashion Week at Smashbox Studios.
As Smashbox Studios began its renovations, the objective was to create the ideal studio space, which would not only feature the latest in technology but also unparalleled customer service within a refreshed environment.
Keeping the needs of the client in mind, the new space is designed to enable the creation of remarkable work. Kalalian and Industrial Color Brands were identified as the ideal partner in the Studios given their leadership and trailblazing innovation in photo studio technology and management.
Smashbox Studios and Industrial Color Brands share a strong history, as the Industrial Color digital teams have worked with top photographers at the Studios for more than ten years and also have offices in Culver City.
The partnership creates a platform to continue innovation as the industry evolves, as both companies share the same pioneering spirit and have an intense passion for photography, creative production and innovation.
Photo by: © Glenn Francis, www.PacificProDigital.com