NEW YORK, March 5, 2014/ FW/ — Entitled 'The Talent Behind the Timo Weiland Brand', the talented designers behind the Timo Weiland brand including Alan Eckstein, Donna Kang, and Timo Weiland offered a fresh, urban chic aesthetic for their Fall 2014 collection.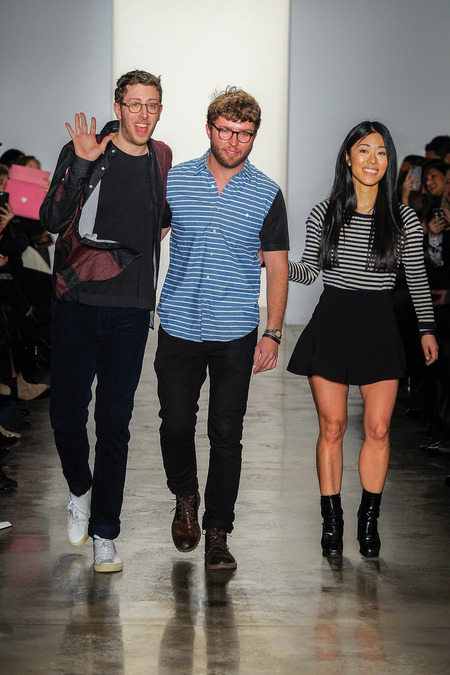 Standout looks in the Timo Weiland Fall 2014 collection consisted of a wide array of daywear ensembles including ruffled silk dresses, polka dot cardigans, and checkered jersey and metallic leather miniskirts with flat pleats that were paired with T-shirts.
Fashion Windows editor Darby Radcliff catches up with the designers, Timo Weiland, Alan Eckstein, and Donna Kang to discuss their design philosophies and inspiration behind the Timo Weiland Fall/Winter 2014 and Spring/Summer 2014 collections. 

How did the three of you meet?
Timo and Alan met through Epic Firm (Alan's former streetwear brand for which Timo was hired to do consulting for).
Donna and Alan met through courses at Fashion Institute of Technology.
What are your backgrounds and how did you start designing menswear?
Timo studied Economics, Business, and Spanish Literature at Vanderbilt University, then worked on Wall Street as an investment banker at Deutsche Bank Securities.
Alan studied Marketing and Advertising at Fashion Institute of Technology then worked at Adam Lippes. It was through FIT and Adam Lippes that Alan and Donna became close prior to her graduating from FIT and then working at Carolina Herrera. TW RTW was launched in Spring 2010 both Menswear and Womenswear.
Describe the design philosophy at Timo Weiland.
Quirky cool; dressed-up tailoring meets American streetwear; based in and inspired by New York; classic with a modern twist.
Why menswear and why now? Why do you enjoy designing menswear?
It is an extension of our personalities and inspired by our creative, awesome group of friends in New York City.
What was the process of applying for the CFDA fashion incubator like?
Very involved and in-depth. A large amount of information was needed, which really helped us polish and update our business plan.
What was the first thing you guys did when you found out that you were accepted into the 2nd incubator class?
We celebrated over a glass of champagne in our old studio, which was down the street on West 38th!
How would you describe your SS14 collection.
Inspired by the weekend- a casual luxurious look with a collegiate twist.
You were recently in Peru for the Alpaca Project. Share about that experience. How did you incorporate that into your designs for FW14?
Donna and Timo went to Peru and met with several top farms, mills, and production facilities in the alpaca industry. It was very educational and informed the design/sampling process.
Tell us about the concept behind your FW14 collection.
The collection was inspired by the Hudson River Valley, NY, which is one of our favorite ongoing inspiration spots.
The inspiration developed from a rustic weekend spent with loved ones in a restored barnhouse for Haley, our men's stylist.
What do you think your customer appreciates about Timo Weiland? What keeps him coming back season after season to add to his wardrobe?
Quirky cool collegiate sportswear – he enjoys smart, thought-out dressing with a laid-back flair.
For More Information about Timo Weiland, Check Out:
@TimoWeiland
[DARBY RADCLIFF]