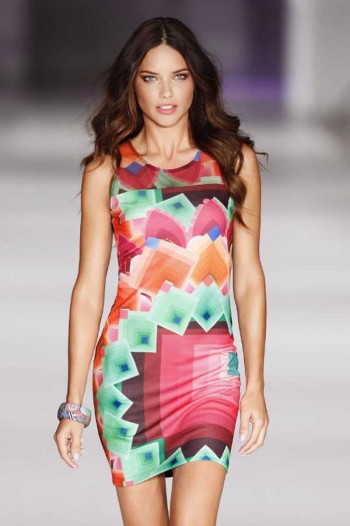 NEW YORK, Apr 16, 2014/ — Adriana Lima is one busy girl! While still in London being a Victoria's Secret Angel, the Brazilian bombshell is also being named as the Global Ambassador of Desigual.
Lima, who headlined Desigual's Spring/Summer 2014 catwalk show in Barcelona last July 2013 has been described as embodying the free, fun and colorful spirit of Desigual.
In her new role, Adriana Lima will be the de factor face of Desigual and acting as its ambassador for the Spring/Summer 2014 and Fall/Winter 2014 seasons. Beginning April 20th she will appear in Desigual's new TV ad, which launches in Europe—specifically Spain, France, Germany, Italy, Austria and Belgium.
Marketing Director, Borja Castresana commented on the announcement. "Adriana will be an excellent 'la vida es chula' ambassador because she reflects our values and represents Desigual women who are confident, optimistic and full of life. Our goal is to have all women in the world identify with our philosophy."
Adriana Lima's personality and her fun and sexy spirit are a natural fit for Desigual and its slogan "La Vida es Chula" (Life is Cool). Who could forget how the Brazilian beauty delighted the audience with her fun, impromptu dancing to batucada rhythms at the 080 Barcelona Fashion catwalk show last July?
At 32 years old, she is a fashion goddess, representing some of the most prestigious brands and gracing the cover of the most popular international fashion magazines. Adriana Lima's broad appeal and vibrant personality make her a perfect fit for this colorful brand.