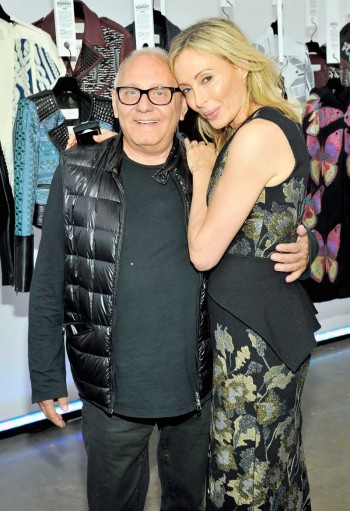 LOS ANGELES, Apr 30, 2014/ — Fashion's power couple Max and Lubov Azria, founder and Chief Creative Officer, respectively of BCBGMAXAZRIA are giving their customers, fans and followers a tell-all glimpse on their fashion empire.
Opening today at the company worldwide headquarters in Vernon California is "Living the Bon Chic Life," a retrospective exhibition in celebration of the company's 25th anniversary. The exhibit takes visitors on an exploratory journey throughout the 25 year history of BCBGMAXAZRIA.
The following guests attended the grand opening event last night: Max & Lubov Azria, Joyce Azria, Brianne Howey, Ginny Gardner, Jennette McCurdy, Lindsay Morgan, Rocsi Diaz, Rose McIver, Jared Eng and Vanessa Marano.
Exclusively and appropriately located at the brand's HQ, the installation begins with a detailed timeline: a collection of moments that have shaped the vision of the revolutionary brand.
Next, an insider's look into the "lifecycle of a dress:" from design inception, to meticulous construction. To follow, an inspirational collection of cutting-edge advertising campaigns produced over the years in partnership with esteemed creative visionaries, such as Patrick Demarchelier, Paolo Roversi and Camilla Akrans, featuring timeless beauties such as, Jessica Stam, Eva Herzigova and Charlize Theron.
The exhibit highlights exquisite designs from each of the company's distinctly unique and celebrated collections: BCBGMAXAZRIA Runway, Herve Leger by Max Azria and BCBGeneration; a beautifully curated archive of house favorites from the past quarter century.
Synonymous with red-carpet glamour, BCBGMAXAZRIA also pays homage to memorable creations worn by Hollywood's elite; from Angelina Jolie, Rihanna and Halle Berry, to Alicia Keys, Carrie Underwood and
Beyoncé; the showcase is complete with paparazzi flashes and velvet ropes.
"My husband Max launched this company with a single goal: to create a beautiful dress," explained Lubov Azria, Chief Creative Officer, BCBGMAXAZRIA. "Since then, BCBGMAXAZRIA has evolved into a world-renowned lifestyle brand with a signature aesthetic and visionary point of view. Today, we reflect with pride on the moments that brought us to this point. We are so very excited about the endless possibilities of tomorrow."
The "Living the Bon Chic Life" retrospective is complimented by a special-edition pop-up shop, providing consumers the unique opportunity to shop archival runway collections at seventy percent off original retail prices.
Select styles will also be available beginning April 30th for purchase at www.bcbg.com/archive. For Additional Information Please Visit: www.BonChicBlog.com