SYDNEY, AUSTRALIA, April 8, 2014/ FW/ — Entitled 'IMG Fashion Announces E-commerce Launch at Fashion Week Australia', at Mercedes-Benz Fashion Week Australia in Sydney this week, IMG Fashion launched an e-commerce component to its global Fashion Week business, enhancing the runway content by creating a 'shoppable' experience. Consumers around the world are now able to shop select pieces of designer collections as they come down the runway.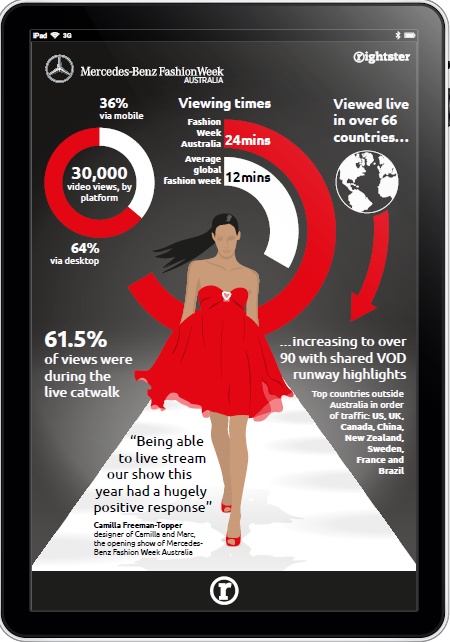 As the digital landscape increasingly shifts consumer mentality into a 'see now, buy now' attitude, the ever-evolving face of Fashion Week, has taken on an impressive new offering.
The MBFW Boutique housed on MBFashionWeek.com has been pre-stocked with capsule designer collections that will become available as they come down the runway.
With IMG Fashion's E-commerce site, guests in the runway room, or across the globe viewing the live stream during Mercedes-Benz Fashion Week are able to click on the select pieces and order their favorite Spring Summer 2014/2015 pieces. Customers will then receive their new wardrobe pieces months in advance before they are available for retail.
"Mercedes-Benz Fashion Week Australia is the first event in our family of global platforms that adopts this new technology. The initiative helps convert consumer interest into commercial outcomes for our designers, and provides an added value and measurable benefit of staging their MBFW show," says Catherine Bennett, SVP and Managing Director, IMG Fashion Events and Properties.
Consumers don't have to head online either, with the latest technology by ShopReply enabling fashion fans to shop by tweet or text as well.  Consumers can tweet the word SHOPTHERUNWAY to @MBFWBoutique in order to see all the pieces available at that time. The boutique also can be activated by texting SHOPTHERUNWAY to +61 417 645 503.
With the combined new and exciting consumer engagement options, designers are now able to maximize business outcomes while showing at Mercedes-Benz Fashion Weeks.
"As IMG Fashion's global offerings evolve, it's important to us that we continue to provide designers with the necessary tools to reach the industry and to also engage the consumer in the early stages of a collection's lifespan," stated Catherine Bennett.
For More Information about IMG Fashion and Mercedes-Benz Fashion Week, Check Out:
[DARBY RADCLIFF]