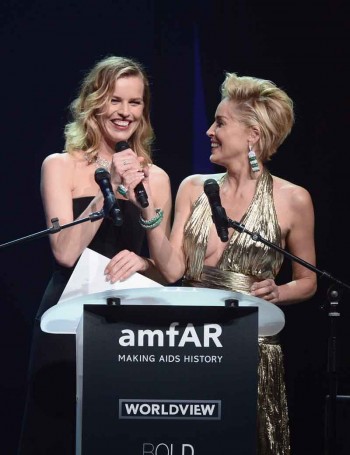 ANTIBES, FRANCE – May 23, 2014 – The 21st annual Cinema Against AIDS raised a record $35 million last night, helping amfAR in its continued fight against HIV/AIDS.
The star-studded black-tie event was held at the Hotel du Cap Eden Roc and was presented by Worldview Entertainment, Bold Films, and BVLGARI.
The evening featured a celebrity filled live auction, an all red fashion show curated by Carine Roitfeld, and performances by Robin Thicke, Lana Del Rey, Aloe Blacc, and Andrea Bocelli.
amfAR Fundraising Chairman Sharon Stone and longtime amfAR supporter Harvey Weinstein helped to lead the legendary live auction, along with the evening's official auctioneer, Simon de Pury.
A highlight was the sale of a gilded woolly mammoth skeleton in a colossal steel and glass vitrine, created by renowned artist Damien Hirst. Titled Gone but not Forgotten, the three-meter tall Mammuthus Primigenius, which became extinct over 10,000 years ago, fetched a sum of 15 million dollars. This was the highest grossing lot in amfAR's history.
BVLGARI Ambassador and former First Lady of France, Carla Bruni-Sarkozy, took the stage to introduce a Bulgari "Serpenti" necklace, made of white gold with a 13-ct drop shape Aquamarine and 19.2-ct of pave diamonds. The exquisite piece, a tribute to the sophisticated spirit of amfAR's late founder Dame Elizabeth Taylor, sold for $550,000.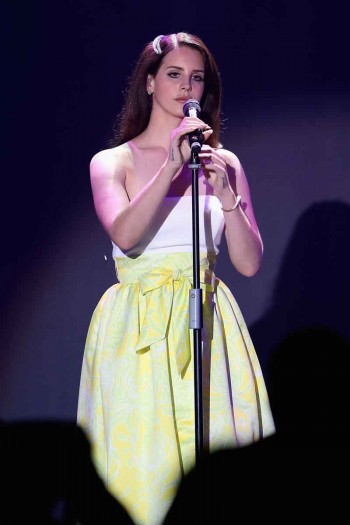 "The Red Collection" fashion show, curated by longtime amfAR supporter Carine Roitfeld, was one of the most dynamic moments of the night. The collection featured one-of-a-kind looks, all in red, from the world's most celebrated fashion houses. The lot, auctioned by Sharon Stone, sold for 5 million dollars.
Also offered in the auction was the last seat on a flight to space on Virgin Galactic with Leonardo DiCaprio. This incredible opportunity sold for $1 million. A first seat was auctioned at last year's Cinema Against AIDS Cannes gala.
Stone was once again a Chair of the event, along with amfAR Global Fundraising Ambassador Milutin Gatsby, Harvey Weinstein, amfAR ambassador Milla Jovovich, Heidi Klum, BVLGARI Ambassador Carla Bruni-Sarkozy, John Travolta, Kelly Preston, Aishwarya Rai Bachchan and Abhishek Bachchan, Carine Roitfeld, amfAR Chairman Kenneth Cole, Bulgari Group Chief Executive Officer Jean-Christophe Babin, amfAR Global Fundraising Ambassador Milutin Gatsby, Michel Litvak, Vincent Roberti, Remo Ruffini, Worldview Entertainment chairman and CEO Christopher Woodrow, and Worldview Entertainment COO Molly Conners.
Other guests in attendance, many of whom participated in the evening's auction along with the Chairs, included: Gael Garcia Bernal, Justin Bieber, Andrea Bocelli, BVLGARI Ambassador Adrien Brody, Carole Bouquet, Jessica Chastain, HRH Princess of Venice Jane Campion, Clotilde Courau, Sofia Coppola, Marion Cotillard, Clotilde Courau, Willem Dafoe, Rosario Dawson, Catherine Deneuve, Luke Evans, Jane Fonda, amfAR CEO Kevin Robert Frost, Adrian Grenier, Lewis Hamilton, Eva Herzigova, Rosie Huntington-Whiteley, Karlie Kloss, Jon Kortajarena, Karolina Kurkova, Peter Lindbergh, Kellan Lutz, Thomas Mars, Kylie Minogue, Margherita Missoni, Bar Refaeli, Nick Rhodes, Michelle Rodriguez, Vito Schnabel, Lara Stone, Riccardo Tisci, Chris Tucker, Paz Vega and Dita Von Teese, among many others.
Some of the highlights from the unforgettable evening included live performances multi-platinum selling pop femme fatale Lana Del Rey, musician Aloe Blacc performed the global hit "The Man," and soulful singer and songwriter Robin Thicke, who performed a set including smash hit "Blurred Lines", and an extraordinary surprise performance by Italian tenor Andrea Bocelli.
After the Cinema Against AIDS dinner, guests were invited to an exclusive "After Party," presented by Moncler.
Since amfAR's late Founding International Chairman Dame Elizabeth Taylor hosted the first Cinema Against AIDS in 1993, the event has become the most coveted ticket in Cannes.