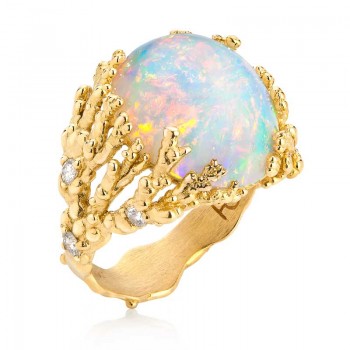 Ornella's journey into the jewellery world started with the discovery of Rene Lalique's work during the period of the Art Nouveau.
Fascinated by his designs and use of materials, she went to study the traditional techniques and "savoir-faire" of jewellery making in one of the best jewellery school in France.
She developed her fascination for high quality craftsmanship through her various internships and her first work experience at Van Cleef and Arpels in Paris. Having received solid skills in design and at the workshop from her formation in France, she then decided to go and explore her creativity at the Royal College of Art in London.
Graduating with her MA in 2007, Ornella has been crafting her reputation in the industry thanks to her distinctive and powerful style combining the souls of high fashion and avant-garde.
She has been collecting several awards for her unusual one-off pieces, and her jewellery has attracted international press' attention such as the Financial Times, The Times, Vogue (UK), Donna magazine (Germany), Genlux magazine (USA), Dreams & Ateliers d'Art de France magazines (France), Adore magazine (Singapoore), Jewelry World (China), Vogue Gioeillo (Italy), as well as online on various blogs and websites such as The Jewellery Editor, Jewellery Outlook, J&W Russia, etc.
This year Ornella has won a prize at the Goldsmiths' Craft & Design Council Awards and she was a finalist to the UK Jewellery Awards 2013 in the "Jewellery Designers of the Year" category.