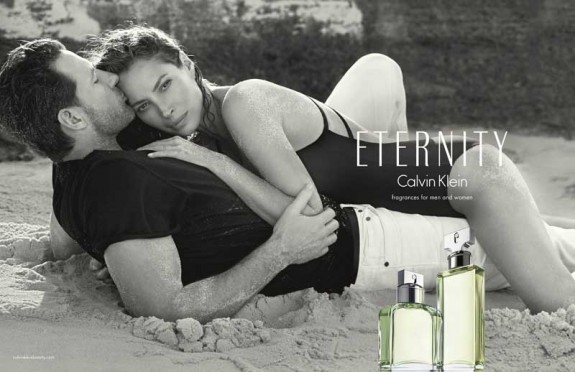 NEW YORK, May 12, 2014/ — Last Friday, May 9th, Calvin Klein Fragrances announced that Christy Turlington Burns, the original face of ETERNITY Calvin Klein, alongside her husband, writer/director/actor Ed Burns will headline the new global advertising campaign for the iconic perfume.
Shot on location in stunning Turks & Caicos, the new ETERNITY Calvin Klein campaign features the couple as they share intimate moments on a quiet beach.
Turlington Burns and Burns will also appear in an advertising campaign for ETERNITY NIGHT Calvin Klein, a new creamy floral fragrance, and ETERNITY NIGHT Calvin Klein for men, a new woody fougere fragrance, set to launch globally in August 2014. For the advertising visuals, they are shown in a serene beach setting captured at twilight.
"I am thrilled to be back representing this brand along with my husband. This is my new favorite ETERNITY Calvin Klein campaign of all time," said Turlington Burns.
Both the new ETERNITY Calvin Klein and ETERNITY NIGHT Calvin Klein advertising campaigns were shot by renowned photographers Inez Van Lamsweerde and Vinoodh Matatin, and directed by Trey Laird of Laird + Partners in conjunction with Calvin Klein's in-house ad agency and creative studio.
Since its debut in 1988, ETERNITY Calvin Klein advertising has artfully and unforgettably captured the promise of romantic love, intimacy and commitment through its iconic black and white images. The new campaign reinforces the brand's heritage and equity of lasting love.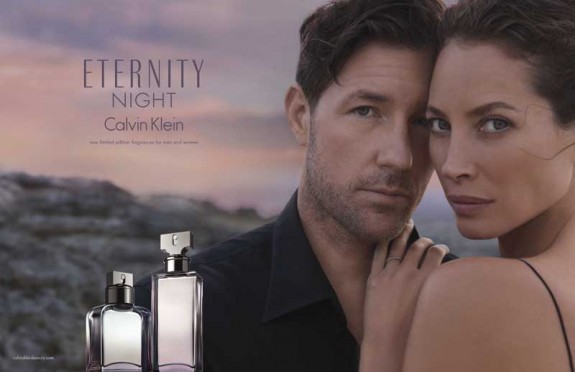 ETERNITY Calvin Klein also announces the launch of The ETERNITY Project, a new global philanthropic initiative.
The mission of The ETERNITY Project is to foster the message of eternal love and commitment through the support of various charitable endeavors to help better individuals and communities.
The first non-profit organization to partner with The ETERNITY Project will be Every Mother Counts (EMC), a charity founded by Turlington Burns to end preventable deaths caused by pregnancy and childbirth around the world.
The ETERNITY Project launched with a global PSA featuring Turlington Burns to drive awareness for Every Mother Counts. For one week starting on Friday, May 30th, 100 percent of proceeds from the U.S. sales of ETERNITY Calvin Klein 25th Anniversary Edition bottles will go towards the support of EMC.
EDITORIAL CREDIT: ETERNITY Calvin Klein; ETERNITY NIGHT Calvin Klein; The ETERNITY Project
IMAGE CREDIT: © 2014 Inez Van Lamsweerde and Vinoodh Matatin