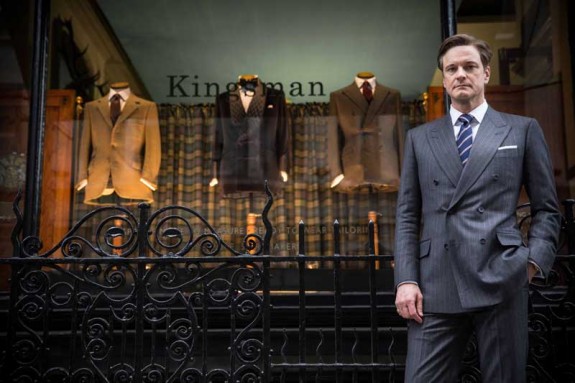 NEW YORK, Jun 11, 2014/ — In a bold move, MrPorter.com, in collaboration with acclaimed director Matthew Vaughn is launching a new menswear label, "KINGSMAN", inspired by the forthcoming British spy film, "Kingsman: The Secret Service."
Based on the comic book, "The Secret Service" created by Dave Gibbons and Mark Millar, "Kingsman: The Secret Service" stars Colin Firth, Samuel L Jackson, Michael Caine and emerging actor Taron Egerton and slated for release in mid-October.
The feature film, which is directed by Matthew Vaughn, tells the story of a super-secret spy organization that recruits an unrefined but promising street kid into the agency's ultra competitive training program just as a global threat emerges from a twisted tech genius.
In an unprecedented move, Mr Porter and Matthew Vaughn together with Arianne Phillips, Costume Designer for the film is creating the entire bespoke 60-piece Kingsman menswear collection based on the costumes used in the film.
Calling it Kingsmen, the collection includes suiting, outerwear, shirting, knitwear and accessories made from the best of British cloth and from the best of British craftsmanship and will launch exclusively on MR PORTER.COM in September.
The original inspiration for the collection comes from sartorial details within the script – Whether it be the traditional Smoking jacket or a revitalized Siren Suit, the clothing in Kingsman: The Secret Service is as integral to the world as the cars and the gadgets.
With the bespoke tailoring reflecting a renewed appreciation for classic British style, Vaughn realized he could build upon a product range that is both a distinctive part of the film and an easily translatable collection for the modern gentleman.
Arianne Phillips, Costume Designer says, "For the first time and without compromise, film merchandising is an organic, authentic extension of the story and the characters created on screen. Matthew Vaughn is an iconoclast director, in that he not only breaks the rules but creates new ones, which is exactly what he did when he challenged me to envision the super stylish Savile Row bespoke world of Kingsman: The Secret Service. For the first time we can literally buy into their world and we've been able to do so seamlessly with our powerhouse retail partner MR PORTER, where content, product and quality are king."
The Kingsman collection launches globally in September 2014 – Customers can sign up and register interest at: www.mrporter.com/shop/designers/kingsman