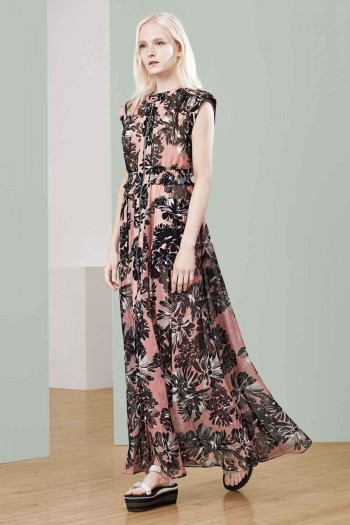 NEW YORK, Jun 13, 2014/ — For her Resort 2015 collection, Rebecca Taylor examined the work of Kiki Smith, specifically her delicate lithographs, which portray our relationship with the fragility of nature and its creatures.
Feminine, evocative with a mythical quality, Kiki Smith's dreamy work intersects Rebecca Taylor's soft and wistful silhouettes. For Rebecca Taylor Resort 2015 collection, one specific image drawn from Smith's work is the bird, which is interpreted through a print and textured metallic embellishment.
With the bird as muse, Rebecca Taylor created cargo skirts and jackets, parachute pants layered with femme printed silk dresses and tops. Strong botanical imagery also emerges as we look toward the seasonal shift to spring with the bold "Splashy Floral" and soft "Blossom Print."
Easy to pack with a utilitarian vibe, the Rebecca Taylor Resort 2015 collection appeals to the woman who has the "go and escape this winter" syndrome during the cruise season.
[MARI DAVIS]
Photos courtesy of Rebecca Taylor