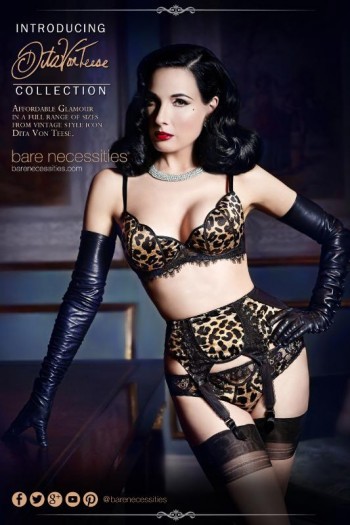 NEW YORK, Jul 22, 2014/ — The perfect duo in the world of lingerie has been born! Bare Necessities, the largest online retailer of branded and designer intimate apparel has partnered with Burlesque Star and Fashion Icon, Dita Von Teese, and is now carrying her signature Dita Von Teese lingerie line.
The Bare Necessities collaboration with the bona-fide Queen of Retro-Glamour is the perfect fit. Both brands share a love for lingerie, embrace womanhood, and Dita's pieces fit almost every body type which is what Bare Necessities is all about!
Bare Necessities is introducing Dita's lingerie line to their website, and will be the first major U.S. retailer to invest in full figured and fuller busted sizes for women available up to E cup! Dita's line provides accessible glamour for women of all shapes and sizes.
Her lingerie tells a story of beauty for women of all shapes, sizes and ethnicities, and this message, for those who are familiar, is projected through Von Teese's live revue "Burlesque: Strip, Strip, Hooray!" which features a full spectrum of beauty and body types.
Dita explained, "I believe that lingerie can be both practical and glamorous. It has the power to make women feel desirable, and therefore BE desirable! But glamour isn't just for one type of woman; it is for any woman who desires it. Offering luxurious, glamorous and functional lingerie for various figure types has always been important to me, and I am very proud and thrilled that Bare Necessities is stocking my full-figure range of lingerie."
Bare Necessities will be carrying key collections from the Dita Von Teese line such as "Madame X," "Man Catcher," "Sheer Witchery," and "Star Lift," along with exciting pieces such as garter belts and fitted chemises.
One of Bare Necessities favorite tips from Dita they wanted to share is, "always buy two to three panties in varying styles for every bra purchase. This will give you more versatility and also prolong the life of the set- and your investment."
Be sure to check out exclusive video content and shop the collection at BareNecessities.com.