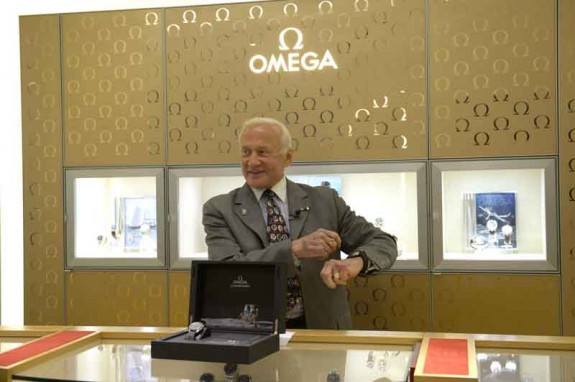 OMEGA celebrated the 45th anniversary of the Apollo 11 lunar landing on July 20, 1969 with two events this past week in Orlando and Los Angeles with famed astronaut and brand ambassador; Dr. Buzz Aldrin.
The celebration began on Tuesday, July 15th when Dr. Aldrin joined OMEGA for a two-part event including a media reception at the OMEGA Boutique in Orlando located at the Mall at Millenia.
It followed by a private dinner at the Kennedy Space Center, the same location where the Apollo 11 was launched in 1969. The private dinner reception displayed a history of Speedmaster watches where guests had their pictures taken with Dr. Aldrin.
The also marked the launch of OMEGA's commemorative timepiece, the Speedmaster Apollo 11. The wristwatch commemorates the first lunar landing and celebrates its link to the iconic chronograph that was part of the adventure.
Recalling the colors of the moon and the Apollo 11 lunar and command modules, this limited edition timepiece features a 42 mm completely brushed grey grade 2 titanium case with a touch of gold.
The black PVD dial, with its 30-minute and 12-hour recorders and small seconds sub-dial, has been produced using a special laser, which creates the design elements on the watch's face by removing the material surrounding the name, sub-dial numerals and hour markers.
This timepiece has been produced in an edition limited to 1,969 pieces; a number that reflects the significant year that the first humans walked on the Moon.
For more information: www.omegawatches.com