MIAMI, August 14, 2014/ FW/ — Entitled 'Benny Rosset Discusses the CM Cia.Marítima Summer 2015 Collection', Benny Rosset, the founder and designer of Brazil's favorite beachwear brand, CM Cia.Marítima, debuted the brand's Summer 2015 collection during the 10th anniversary of Mercedes-Benz Fashion Week in Miami.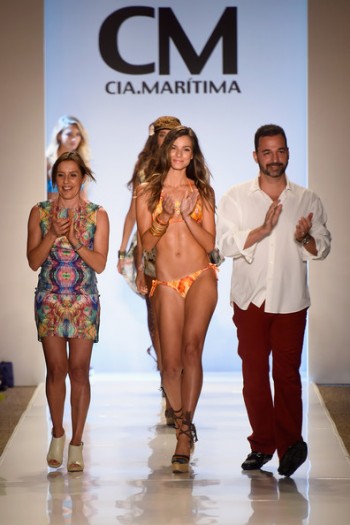 CM's Summer 2015 collection draws inspiration from surf paradises around the world and from the women who travel the globe in search of adventure. Continuing its mission to "follow the sun," CM has created a collection for women dreaming of the beaches in Peru, Costa Rica, Hawaii and the world's most untouched corners.
The Summer 2015 collection consists of bikinis and a range of cover-ups from flowing dresses to printed kaftans, as well as new styles were incorporated including body suits, ruffled bikinis, square strapless tops, V-neck smock tops and envelope sarongs. This season's swimsuit pieces were designed in tropical and ethnic-inspired prints, alongside textured and embossed fabrics, as well as innovative detailing adds daring touches to the collection looks.
Fashion Windows editor Darby Radcliff catches up with the designer, Benny Rosset to discuss the design philosophy behind the CM Cia.Marítima Summer 2015 collection.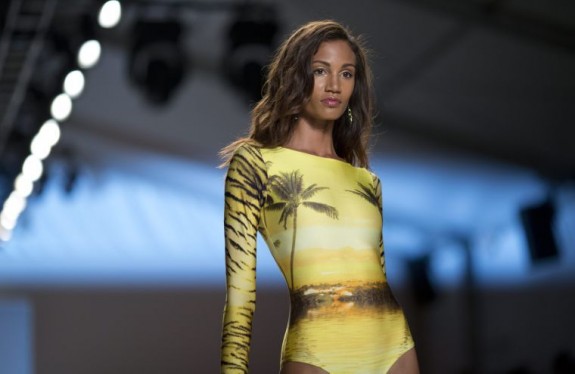 What was the design philosophy behind your CM Cia.Marítima Summer 2015 collection?
I brought a lot of tropical prints to mix in with the tribal elements in the collection, as well as designed fluid fabrics for the dresses and cropped garments to shape the body.
What are your favorite pieces in your Summer 2015 collection?
My favorite pieces are the orange tropical prints that show what we imagined for the collection. I also liked the crop it look that is long sleeve and made of lycra and spandex, which can be an active and beachy look.
What's next for your brand?
In 2011, I launched retail stores in Brazil, so I would like to open some retail stores in the U.S. next.
For more information on CM Cia.Marítima, please visit:
@CIA_MARITIMA
[Darby Radcliff] Photo Credit: AP Photo/J Pat Carter