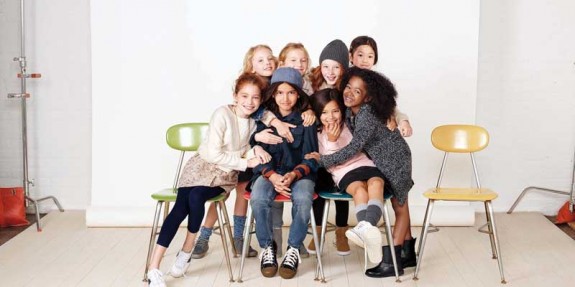 NEW YORK, Aug 16, 3014/ — Totally embracing social media, Gap launched the inaugural GapKids Class of 2014, a contest inviting parents to submit photos of their kids for the chance to be featured in a 2015 GapKids marketing campaign.
This is Gap's next generation of Casting Call, the successful program that engaged moms and dads for six years. GapKids Class of 2014 commences the back to school season by honoring kids who represent the free spirit of childhood, with all its perfect imperfections.
Everyone who enters will receive a socially sharable moving image video of their child that encapsulates the GapKids aesthetic.
In addition to sharing social content, Gap has built a new @GapKids social network as a place for parents to explore content. Called "the cutest place on the Internet", the @GapKids Instagram, Twitter and Pinterest channels were built with parents in mind and have a modern yet classic aesthetic that represents GapKids and babyGap.
Through a series of style collectives, brand moments, inspirational content, and adorable kids, the aim is to tell meaningful, visual stories optimized for the Internet, where kids and babies rule.
GapKids Class of 2014 Submission Process
As part of the submission process, Gap is asking parents to submit three charismatic photos of their child between now and September 15.
After a submission is processed, parents will be emailed a 15-second video of their child's photos. Each socially compatible video will have a GapKids inspired aesthetic and emphasize the expressions of kids being kids.
Details on where and how to enter can be found on the newly launched @GapKids Instagram, Twitter and Pinterest channels and at www.GapKidsClass.com.
Entry Phase: From August 12 – September 15, parents can upload three photos of their baby (ages four and under) or kid (ages five to 12) along with contact information. Submissions are accepted on www.GapKidsClass.com. Photos can be submitted through Instagram, Facebook, mobile phone or desktop. Once processed, parents will receive a video via email as a confirmation that their submission was received with a socially sharable URL to the GapKids inspired video.
Finalist Phase: During the month of October, a panel of Gap judges in each global region will narrow down the field of submissions to 20 finalists – 10 babies/toddlers (five girls and five boys) for babyGap and 10 kids (five girls and five boys) for GapKids. Parents of regional finalists will receive a questionnaire to fill out for additional content needs.
Winner Phase: In November, the four winners of each region will be announced on the Gap digital channels. The winners will participate in a photoshoot taking place in their region and they will be featured in a Gap marketing campaign in early 2015.