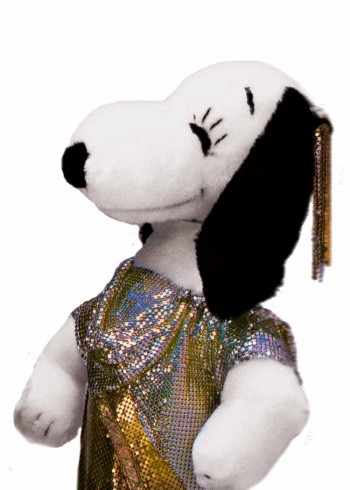 It all began on October 2, 1950 when the "Peanuts" comic strip by Charles Schulz made its first appearance in seven newspapers. Snoopy as a character appeared two days later on the comic strip.
It will take 18 years, but on 1968, Snoopy stepped out of Charles Schulz's comic strip and turned soft and huggable when Determined Productions presented the world with its first cuddly plush Snoopy.
And because by 1965, (three years before the plush toy came out) Snoopy was already a "novelist" in the cartoon strip, fans around the world immediately began asking for clothes suitable for Snoopy, the master of disguise. Determined Productions responded with a line of outfits right away.
Eight years later, in 1976, Snoopy's sister Belle made her debut in the Peanuts comic strip and later as a plush doll with a complete wardrobe.
In the early 1980s, Connie Boucher from Determined Productions began to contact the most famous and talented couturiers in the world to create an original one-of-a-kind designer outfit for both Snoopy and Belle. The result was a fabulous collection of specially designed haute couture that became an exhibition around the world.
Charles M. Schulz could not believe that famous fashion designers from around the world would agree to turn their talents to creating clothes for a plush doll, but the Snoopy in Fashion collection is testament to the universal appeal of the world's most famous beagle.
With gala openings at prestigious venues such as the Fashion Institute of Technology in New York and the Seibu Art Forum in Tokyo, Snoopy in Fashion travelled to cities around the world throughout the mid-1980s.
[KRISTINA FE]
Photos courtesy of Peanuts Worldwide LLC