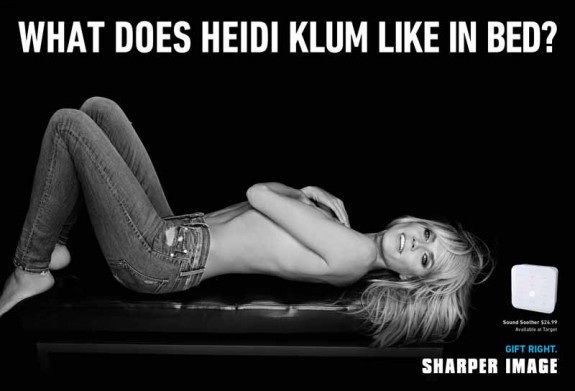 DALLAS, Nov 12, 2014/ — With the campaign playfully titled, "Gift Right", Sharper Image chose supermodel and Project Runway host Heidi Klum to front its Holiday 2014 campaign.
Geared to inform consumers in a tongue-in-cheek manner that Sharper Image has the right gift for everyone on your holiday list, the campaign creative reveals a sultry Klum alongside seductive questions with unexpected and humorous answers.
In one ad image, a topless Klum is lying on a modern, sleek bench poised with the question, "What Does Heidi Klum Like In Bed?" The answer is a Sharper Image Sound Soother, of course!
Commenting on the campaign creative, Klum stated, "When Sharper Image came to me with their holiday 'Gift Right' campaign, I was really excited. I love all of the cheeky double entendre in the campaign mixed with really great products. Do you want to know what Heidi Klum likes in bed…??"
The multimedia marketing campaign will debut in print, outdoor and online. Sharper Image is available at retailers such as Macy's, Target, Bed Bath & Beyond, as well as Sharperimage.com and the famous Sharper Image direct mail catalog.