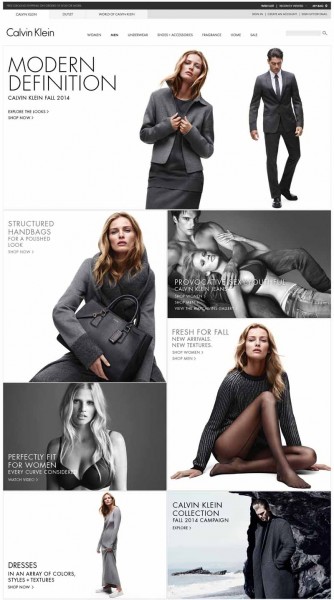 NEW YORK, Dec 20, 2014/ — 2016 or bust! With the bold plan of selling directly online in 20 countries by the end of 2016, Calvin Klein once again expands its reach to fashionistas around the world via calvinklein.com.
And to go global, Calvin Klein is also going local! Individual websites, customized by market, share a consistent look and feel but are localized by product offering and site functionality to meet consumer preferences and needs within each market.
The roll-out, anchored by the re-launch of the company's digital flagship in the U.S., has expanded throughout Europe, North America and South America and will continue across Asia, providing a premium brand and shopping experience worldwide.
Sites will launch both on desktop and mobile, with social media integration.
"This launch is impactful in both its geographic scale and level of customization," said Steve Shiffman, Chief Executive Officer of Calvin Klein, Inc.
"It reflects our commitment to reinforce the Calvin Klein brand identity across the globe, while also creating a personalized shopping experience within each individual market."
"Through meticulous consideration of consumer behavior, user experience and regional merchandising, we have positioned our e-commerce sites to serve as the focal point of the consumer's interaction with the brand – all while maintaining the integrity of a universal message and aesthetic."
All e-commerce sites globally will feature a vast assortment of company product, along with licensed categories, across men's and women's Calvin Klein Jeans and Calvin Klein Underwear, with regional offerings of Calvin Klein fragrances, Calvin Klein apparel and accessories, Calvin Klein Performance, Calvin Klein Home, and children's products in available markets.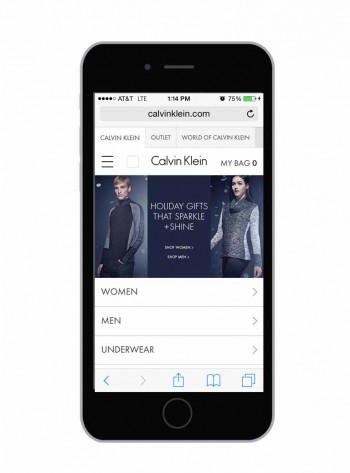 Building on the company's integration of content and commerce, the "show yours. #mycalvins" global social media campaign will be visible across the newly launched e-commerce sites via user-generated photo galleries featuring fans of the brand showcasing the iconic waistband of their Calvin Klein Underwear.
With newly introduced sites now live in 14 European markets, as well as Brazil, the expansion is underway. Launches across Europe include: Austria, Belgium, Denmark, Finland, France, Germany, Italy, Ireland, Luxembourg, The Netherlands, Poland, Spain, Sweden and the United Kingdom.
Expansion will continue globally via the implementation of direct e-commerce sites across Asian markets beginning in 2015 and rolling out over the next two years.
IMAGE CREDITS: Courtesy of Calvin Klein, Inc.