NEW YORK, Mar 26, 2015/ — Can Kendall Jenner do to the new #mycalvins Denim Series what Brooke Shields did to the brand overall in 1980?
A social media star, Kendal Jenner alongside male model Simon Nessman are the faces of Calvin Klein Jeans #mycalvins Denim Series, a limited edition, logo-driven offering inspired by athletic and urban streetwear.
In North America, the line will exclusively debut at Opening Ceremony on April 15th in their New York and Los Angeles stores, as well as online at openingceremony.us.
Commenting on her new role, Kendall said, "Modeling for Calvin Klein Jeans is really a dream come true. I've grown up wearing the brand and seeing the iconic advertising in magazines and on billboards featuring some of the world's top supermodels. To now be a part of that legacy is truly an honor."
Great sound bite, but also forgettable, unfortunately! Compared to Brooke Shields, "You wanna know what comes between me and my Calvins? Nothing", it has been 35 years since that ad came out and people still remember. It has even become part of pop culture.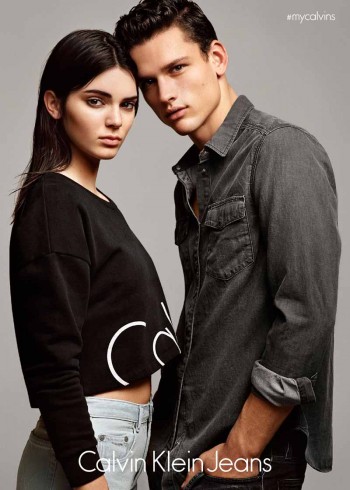 This new series, designed by Calvin Klein Jeans' Global Creative Director, Kevin Carrigan, was influenced and inspired by the success of the #mycalvins social media campaign – which Ms. Jenner has participated in alongside an impressive list of models, musicians, athletes, celebrities and influencers from around the world.
With 21.8 million followers in Instagram and 10.1 million followers in Twitter, Kendall Jenner is a true social media star. And though she really has walked for big name designers in New York and Paris, and has earned the right to be called a model, many still question her meteoric rise to success.
Is she a top model now because she has what it takes to be a top model? Or, is she being booked because she is a member of the Kardashian clan?
Perhaps, there will always be questions about her. And with new campaign at Calvin Klein, shot by fashion photographer Alasdair McLellan and styled by Melanie Ward in New York City, Kendall's respectability is rising.
And of course, Calvin Klein is also going all out, like what it usually does with all its campaigns. To celebrate the new line, Calvin Klein Jeans and Opening Ceremony will come together to host an invitation-only, global launch event in April in Los Angeles, California.
"This series is an expression of the athletic trend that's happening right now," said Mr. Carrigan. "I designed an assortment of unisex tees and tops to be mixed with denim in elevated street styles. These are the ideal wardrobe essentials for an active, youthful lifestyle like Kendall's".
The new assortment, which is anchored with a modern, cropped take on the "Calvin" logo, is grounded by iconic Calvin Klein jeans, logo tees and sweatshirts, marrying personal style with sporty details.
The full men's and women's offering consists of tees, jeans, denim shorts and jackets, jogger sweatpants, unisex backpacks and hats, in baby blue, washed black and white rinses retailing from US$58 to US$348.
In North America, following the exclusive debut of the line at Opening Ceremony, the offering will expand distribution and become available at calvinklein.com upon May 15th.
IMAGE CREDIT: © Alasdair McLellan, courtesy of Calvin Klein Jeans