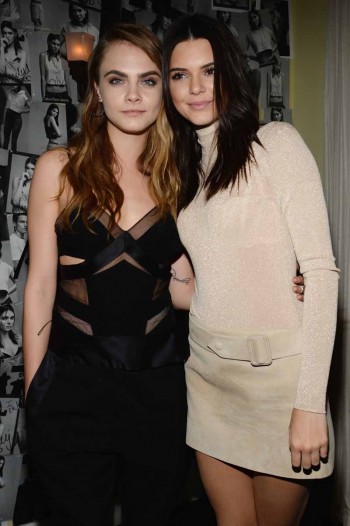 NEW YORK, Apr 24, 2015/ — The Calvin Klein Jeans #mycalvins Denim Series officially got its nod from fashionistas with an invitation-only party held Thursday, April 23rd at the Chateau Marmont in Los Angeles.
Opening Ceremony's Humberto Leon and Carol Lim co-hosted the event, as the exclusive North American retailer, and American model and social media star, Kendall Jenner – who is the face of the campaign – served as the evening's special guest.
During the event, guests enjoyed a musical set by DJ A-Trak and were encouraged to participate in the successful #mycalvins social media campaign by using the on-site photo booth to post photos of themselves using the hash tag. Upon exiting the venue, attendees were met with an oversized campaign image of Ms. Jenner on the Sunset strip, in her first solo billboard to-date.
For the evening, those wardrobed in Calvin Klein Jeans and Calvin Klein Collection included Ms. Jenner, Jussie Smollett, Nick Young, HAIM, Bella Hadid, Hailey Baldwin, Kenya Kinski-Jones, Gia Coppola, Will Peltz, Jesse Jo Stark, Irene Kim, Tina Leung and Jayne Min.
Other notable guests in attendance at the event included Kris Jenner, Kourtney Kardashian and Scott Disick, Khloe Kardashian, Cara Delevingne, Melanie Griffith, Lance Bass and Michael Turchin, Jhene Aiko, Kelela, Kilo Kish, Sama and Haya Khadra.
The limited-edition #mycalvins Denim Series styles were all designed by Kevin Carrigan, Calvin Klein Jeans' Global Creative Director and are anchored with a modern, cropped take on the "Calvin" logo. The assortment is grounded by iconic Calvin Klein jeans, logo tees and sweatshirts, marrying personal style with sporty details.
The full men's and women's offering consists of tees, jeans, denim shorts and jackets, jogger sweatpants, unisex backpacks and hats, in baby blue, washed black and white rinses retailing from US$58 to US$348. In North America, the line debuted exclusively at Opening Ceremony, and will expand distribution and become available at calvinklein.com upon May 15th.
Calvin Klein Jeans #mycalvins will be available at:
Opening Ceremony New York, 35 Howard Street, NYC, NY 10013; 212 219 2688;
Opening Ceremony at Ace Hotel, 1190 Broadway, NYC, NY 10001; 646 695 5680;
Opening Ceremony Los Angeles, 451 N. La Cienega Blvd., LA, CA 90048; 310 652 1120
openingceremony.us
IMAGE CREDIT – EVENT: © 2015 Getty Images Entertainment
IMAGE CREDIT– CAMPAIGN: © Alasdair McLellan