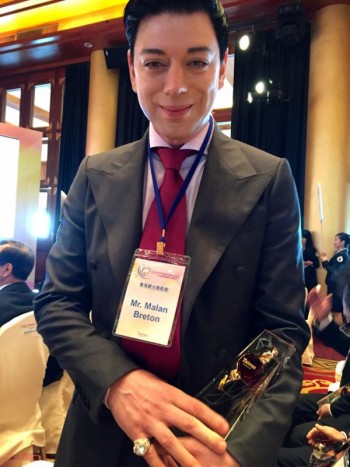 NEW YORK, Apr 6, 2015/ — After being honored in his native Taiwan for his fashion prowess, designer Malan Breton is adding another feather to his cap with the launch of "Bride & Groom" bridal line on April 18, 2015 at the top of the Empire Hotel.
Describing the new line as "Audrey Hepburn, meeting James Bond at the altar," Malan Breton envisions the "Bride" line with Asian elements meet Parisian couture, with a cinematic twist. The fabrics are silk, with rich embroideries, brocades, lace, 3M fibers, and tulle.
To add to the glamour Breton introduces silhouettes that appeal to his roster of celebrity clients, and royals…
For the Groom, Breton introduces a collection of tuxedos, and formal wear that is Savile Row tailored in silk, cashmere, and summer weight wool.
The glamorous looks will be topped off with hair styles by Ecru New York, makeup by Bella Beauty on Demand, and shoes for men by Cruyff Classics.