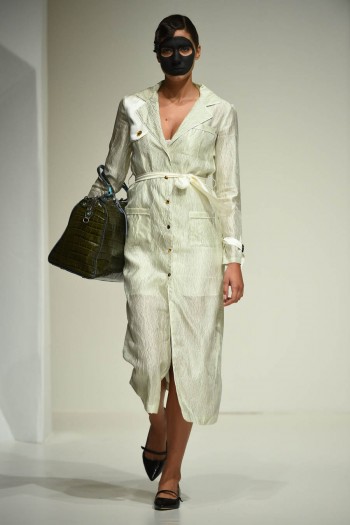 DUBAI, Apr 17, 2015/ — From Fashion Forward Dubai press notes:
TALLER MARMO is a Dubai-based women's wear brand founded in 2013. The company was named after "Taller", the Spanish word for manual work – representing the laboratory, the artisan, and the authenticity of the handcraft – and "Marmo", the Italian word for marble – representing fine material and Italian excellence that metaphorically refers to luxury, exoticism, decadence, and tradition.
TALLER MARMO, as a concept, was born in Italy to be based in Dubai: a bridge between European elegance and Middle Eastern charm. Inspiration is drawn from the conversation between the nostalgia of the past and the contemporary culture. The Italian tailoring with a minimal approach merges with Arabic traditions. The brand's collections are entirely and exclusively handcrafted in Italy, with rich textiles finely enhanced by a thorough attention to detail.
Riccardo Audisio
Riccardo Audisio was born in the countryside in northern Italy. In June 2010, he graduated from Arts & Architecture School in Genoa, where he developed his passion for art and fashion. In October 2010, he moved to Milan to study Fashion Design at the Istituto Marangoni, where he met Yago Goicoechea.
Yago Goicoechea
Yago Goicoechea was born and raised in northern Argentina where he developed his earliest interest in fashion thanks to his family business: a group of women's wear boutiques. In April 2010, he moved to Milan to study Fashion Design at the Istituto Marangoni.
During the second year of their three-year course, Yago and Riccardo imagined a brand that brought together their creative and artistic direction. In June 2012, they left the school and started working on the first collection of TALLER MARMO.
Photos by Ian Gavan/Getty Images for Fashion Forward