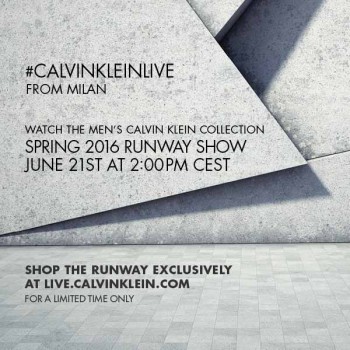 As its wont for the past 10 seasons, Calvin Klein Collection will live stream the brands' Spring 2016 men's runway show taking place during Milan Men's Fashion Week on Sunday, June 21st at 2:00 PM CEST (Milan) / 8:00 AM EST (New York) on the company's website at live.calvinklein.com.
The show – which will be presented by Italo Zucchelli, the brands' Men's Creative Director – will be broadcast on the site in real time where viewers will be able to pre-reserve select pieces from the new collection.
Beginning during the live stream on June 21st and running through June 25th, customers will have the opportunity to pre-reserve several pieces from the Spring 2016 runway show. The selected pieces will include an edited assortment of jackets, pants, t shirts and bags which were first debuted on the runway.
All pre-reserves will ship around the world within approximately four weeks from date of order from the brands' global flagship store on Madison Avenue in New York City.