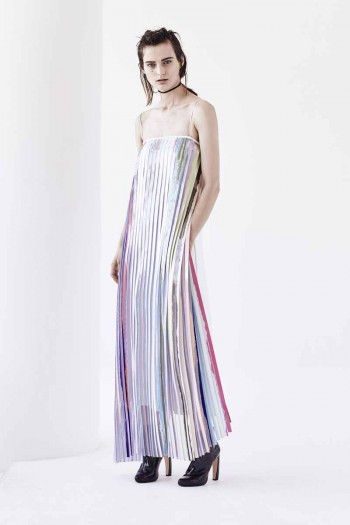 On June 9, 2015, international luxury women's wear brand . E L L E R Y . presented it's Resort'16 collection at a private residence; a converted horse stable in New York's Meatpacking district.
Models walked to the solo beats of drummer Matt Sculz contrasted to the chilled tracks played intermittently by Wendy James creating an overall moody sentiment.
The gathered audience of media, influencers and international buyers included; Sarah Rutson of Net-a-Porter, Begum Yasar, Justin O'shea of My Theresa, Brana Wolf, Jennifer Fisher and Australian Consulate-General Nick Minchin.
Anita Pallenberg plays muse and heroine for Ellery's resort'16 collection. A focus on Pallenberg's fascination with black magic steered the collection into a mystical realm.
Detail and silhouettes nod to the nostalgic; with ruffles on crisp shirting, décolletage tops with deconstructed bell sleeves. Bold top-stitching punctuates the tailored styles and juxtapose the decidedly modern crease front crop flare suits.
Fabrications are palatial with silk velvet, boucle binding, twill suiting shirted jersey and corrugated appliqué. A monochromatic colour palette peppered with evocative burnt orange, burgundy, charcoal and soft blues.
An attitude of insouciance transcends the collection; a disposition Pallenberg projected eternally. Resort'16 is a moody collection both raw and sophisticated, a unique combination that Ellery achieves effortlessly.