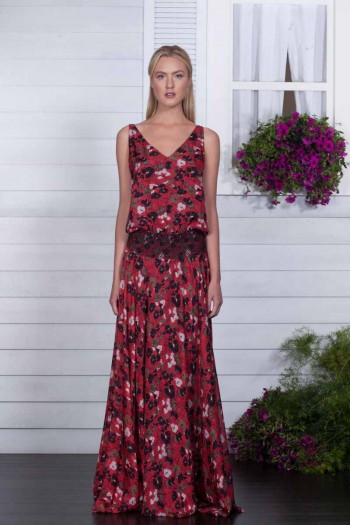 The Resort 2016 HANLEY MELLON collection features St. Barths as the profiled location. The collection, meant to be mixed, matched and layered to comprise a complete wardrobe, expands on the sportswear brand's core values: a sense of ease, balance of proportion, texture and color, and attention to detail.
"St. Barths is the perfect first resort location for us. There is a sophisticated, yet laid back elegance to the manner of local living on the island that speaks to directly to our sportswear vision," said Creative Director Nicole Hanley Mellon.
The collection continues to expand on the idea of layering, creating silhouette and proportion through the combination of garments. Building on the modern idea of 'soft dressing', lightweight, fluid fabrics such as chiffon, jersey and sheer, crocheted knits, are offset with textured accents in unexpected places.
Casual pieces, such as a black jersey zip up and matching pant, are accented with leather, adding a sophisticated edge. Sequins are used on separates and digitally printed with colored patterns, giving the pieces the feeling of a salt water wash or a natural patina. A wrap dress of black jersey and open weave black & white tweed is tied in the back and giving the appearance of a top and skirt. A black and white open weave tweed coat is accented with a white knit collar and exposed stitching.
To complement the dichotomy, we played with black and whites in a way that doesn't feel stiff and also reflected some of the natural colors you find in St. Barths through the palette – hibiscus red, blues, and olives. Everything feels as though it has washed out in the sun, said Mellon.
The HANLEY MELLON Resort 2016 collection features three variations of tropical floral prints- Printed on chiffon, they are utilized in backless dresses, both knee-length and long, and on silk for tops and pants.
The HANLEY MELLON Resort 2016 collection will be available at select retailers and on HANLEYMELLON.com beginning in November 2015.