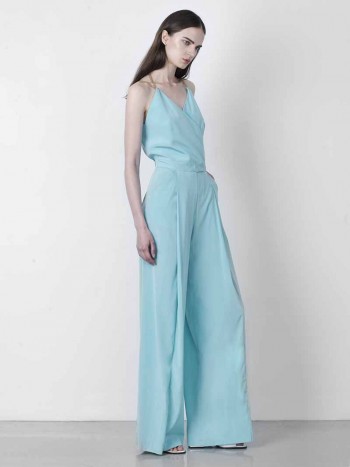 For the first time ever, Lie SangBong proposes a Resort collection. A declination of the brand's main line, the LIE SANGBONG Resort 2016 collection is an in-depth study of Mr. Lie's signature construction techniques.
Deceptively minimal, linear silhouettes place the focus on contrasts – hard and soft, masculine and feminine, lightness and texture.
A simple color palate of tan, ocean blue, peach, cream, grey, black and white is offset with gold and silver jewelry-like embellished details. Several garments feature metal chains, which are removable and can be worn separately as jewelry, such as black jacket with details on the pockets that can be worn as bracelets, and a peach silk dress with a gold neck detail that can be worn as a necklace.
Gold and silver zippers are used a subtle accents on several of the jackets and dresses, allowing garments to be worn in a variety of ways. Customized gold and silver buttons are either round or linear, and the majority of garments feature silver chain detail on the interior lining.
Key pieces include lightweight outwear, designed with versatility in mind. An ankle length sleeveless vest in lightweight wool features a long panel of sheer chiffon panels on the bottom and is paired with a pant, creating a relaxed yet sophisticated silhouette. A signature trench coat is offered in a soft, ultra-lightweight tan or lemon-lime nylon.
A key look for evening is an elongated silver grey silk satin jacket features an elegant narrow, deep v-neck with a button closure waist band that sits low on the hip and paired with a multi-layered silk chiffon skirt.
Further underscoring the versatility of the collection, both pieces are intended to be worn in multiple ways; the skirt can be transitioned into a strapless dress which falls just above the knee, and reveals the multiple layers of fabric creating an asymmetrical hem.
Shirting, including t-shirt dressing, is another strong element in the collection, which speaks to the easy and wearability. Black and white t-shirts and t-shirt dresses in cotton jersey feature a subtle 'stone' print in contrasting gold foil, black or tonal white.
Structured shirting and shirt dresses that can be worn alone or in layers are done in classic white cotton poplin or white soft cotton. Variations in wider, caftan-inspired silhouettes are constructed in ocean blue or white silk chiffon.
The LIE SANGBONG Resort 2016 collection will be available in November 2016 at retailers across the globe, including the brand's US boutique located at 30 Gansevoort St in New York City.
Photos courtesy of LIE SANGBONG