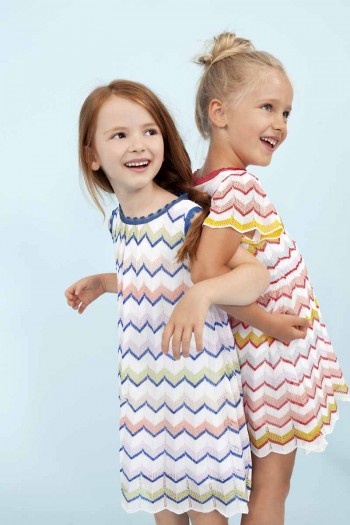 For Spring/Summer 2016, Missoni Girls celebrate nature and interprets it via a whimsical theme.
An imaginary world – inhabited by winged, elf-like creatures, childlike butterflies and flying dragonflies inspired by "A Midsummer Night's Dream"– enchants the senses through lively colours and dreamy patterns.
The interplay of natural and digital hues, fashion and play, and illustration and animation generates pieces that are for the young girls and baby girls of today.
This is a world composed of vintage fabrics, iconic to Missoni knitwear, that have been pierced and reworked on a magnified scale in waves, zigzags, contrasting stripes and bands of varying shades of colour and have been given movement through cuts and vertical, horizontal and diagonal rotations.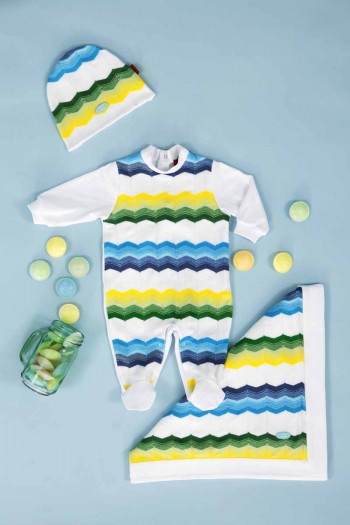 Gradient shades from raspberry to peach pink, emerald green to aquamarine and citrine yellow, and lapis blue to amethyst have been alternated with optical white to create bright and luminous graphic effects that transform themselves into vibrant, multicoloured wings that stand out against the background of little dresses that have been cut above or below the waist.
Butterfly or dragonfly wings have been applied to the fronts or sides of flared, haltered, flounced and ruffled dresses with waistlines that fall above or below the waist. These wings, further embellished through the use of lurex threads, stand out against uniform, monochrome backgrounds or lift, open, tilt, reverse and alternate zigzag patterns for a kaleidoscopic effect.
Missoni's magic wings evoke fairytale-like, pixie insects for a SS 2016 collection that includes capped-sleeve pieces, voluminous, pleated skirts in striped blocks and zigzag tops, as well as versions fashioned from vintage knits with scallop-stitch embroidered hemlines and matching shawls.
Finally, this season features two versions of beachwear: bikinis and one-piece bathing suits, using the latest Missoni Mare fabrics, with matching beach robes and kaftans that allow little Missoni admirers to dress like their moms. All looks have been completed and accessorized with matching hairbands, headbands, turbans and hats.
The baby capsule collection – from 0-12 months – includes knitted versions in band and zigzag motifs and a continued jersey version printed with a zigzag of gradient tones. Rompers, jumpsuits, onesies, bibs, hats, cover-ups, and sleeping bags come in variations of blue and aqua green for baby boys and peach pink and citrine yellow for baby girls.
Photos courtesy of Missoni