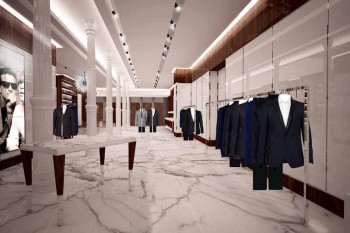 Under the mantra, "created in Los Angeles, crafted in Italy," veteran designer Jeffrey Rudes will unveil his eponymous men's collection on July 15, 2015 at 5:30 PM during the inaugural New York Fashion Week Men.
The Jeffrey Rudes menswear collection combines the perfect union of timeless European craftsmanship with effortless elegant style. With its point of view in modern luxury fabrics and traditional tailoring, the collection's unexpected details convey a refined and cool attitude.
Headquartered in Los Angeles with an atelier in Italy, the company has assembled a team with decades of design history and technical expertise. Creativity and excellence go hand and hand to produce the line, offering the highest standards in cut, construction and finish.
The collection has an emphasis on fit. Classic cut blazers, leather and shearling jackets, crisp shirtings, sweaters and skinny jeans—categories Rudes feels are fundamental to every modern man's wardrobe. It presents a sexy masculine feeling, which brings a man from day to night.
The Fall collection launches in July 15, 2015 and will be available exclusively at the company's new Soho, New York flagship store, located at 57 Greene Street, and on jeffreyrudes.com.