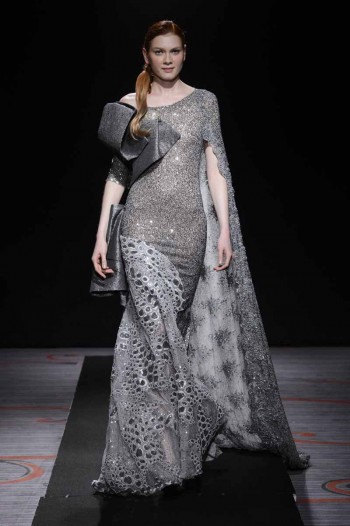 Paris with its art and romance, Parisians sitting for coffee by Seine and Eiffel Tower, midnight moonlight, and the energy of this infinitive ambiance have been the great sources of an inspiration.
The mixture of 30s retro and the modern architecture with its gigantic volumes are some of the essential supplements of its construction. The absence of zippers and buttons on the garments show natural character as well as the architecture of the human body.
Born and raised in an artistic family; Patuna followed studies in Fine Arts. The designer sees fashion as a devotion to art
"When i touch fabrics I have to feel the symbiosis and the alchemy of the fabric and myself. If I feel that and is talking to me then I will create my magic, if not, I will move on to the next one."
The Autumn/Winter Collection 2015-2016 consists fabrics such as silks, laces, chiffons and velvets, a mixture of movement and volume between half and full moon.
Photos courtesy of Patuna